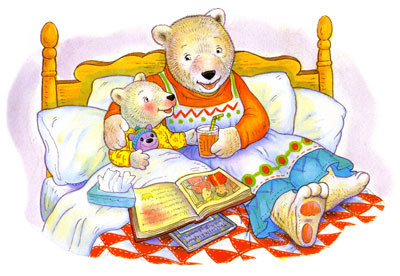 Explaining antibiotics to your child is made easier by Dr. Charlotte Cowan. Picture Books by Dr. Cowan can entertain, educate and reassure both parent and child with stories about common childhood illnesses, like fever, colds, earaches and sore throats. The books include separate guides for parents which answer common questions, offering advice about when to call or visit the doctor and how to comfort the child at home.
The ABC's of Hand Washing from the PA Department of Health website gives kids handy hints on hand hygiene.
Immunization information with coloring activities can be found on the PA Department of Health website.
Do Bugs Need Drugs? is a community education program about hand washing and responsible use of antibiotics. The website has games to play online and activity pages to help learn about the germs that make us sick and most importantly how not to get sick.
Glo Germ™ safely and visually demonstrates to students and adults alike how germs are spread from person-to-person without proper hand washing. Used throughout the United States in schools, hospitals and food services, Glo Germ™ consists of an odorless lotion or powder which glows brightly when exposed to ultraviolet light.