Abestos-Affected Communities Abroad
In order to develop strategies to confront the threat of asbestos exposure, effected communities are interested in learning about the approaches for removal and remediation used previously by others. Since a single collection of comparable sites was not available in the past, we have provided a list of exposed communities, both in the US and abroad, that share characteristics with Ambler's industrial history. We hope that residents may use the summaries we have provided, as well as the links to further information, to draw connections between their concerns for asbestos contamination in Ambler and the solutions produced to ameliorate this issue elsewhere. Each numbered location summary corresponds to a green marker on the map below. The location of Ambler has been labeled with an orange dot for reference.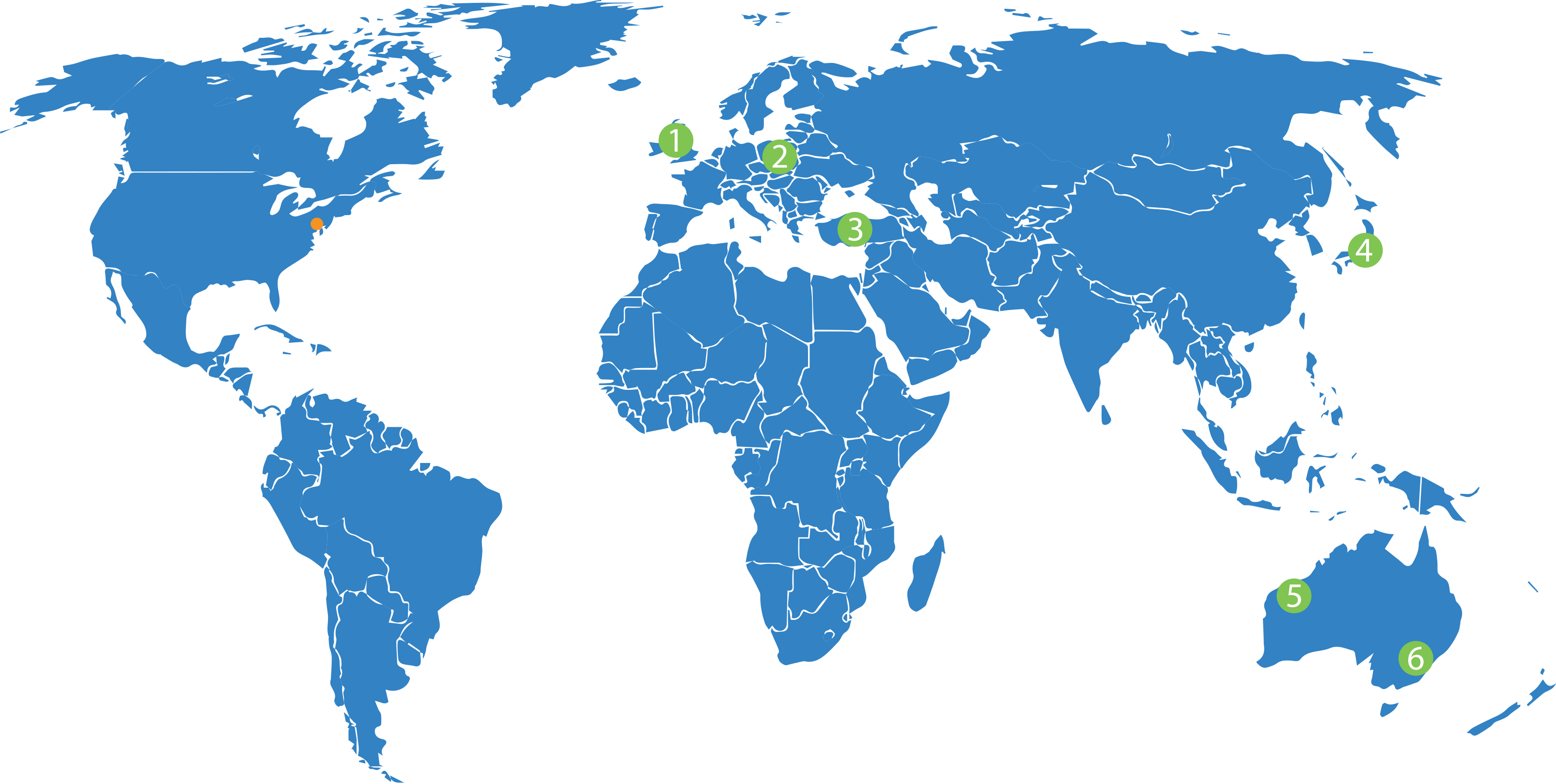 1. Rochdale, England: Spodden Valley
Spodden Valley of Rochdale, England is the location of a 100-acre site of the world's first asbestos mill, the Turner Brothers Asbestos Factory. The factory served as the largest asbestos textile producer in the world for over a century from its opening in 1879, and production levels increased into to the mid-1970s. About 15,000 pounds of fibrous asbestos dust waste were dumped outside of the facility every week. Against the concerns of the community and afflicted mill workers, the former mill site was sold to a building consortium in 2004 with the intent of building 650 homes and a children's nursery on the contaminated area. Preliminary development at the site was conducted without environmental assessment or asbestos monitoring. A community group named Save Spodden Valley was formed to warn town councilors and civic authorities of the developers' false assurances that no asbestos remained at the site. Independent tests conducted in 2005 confirmed numerous locations of extreme asbestos contamination at the site. The Rochdale council finally rejected the planning application for development in 2011. The community is currently still trying to remediate the area as well as produce a solution to reduce the risk of catastrophic flooding. A Global Asbestos Impact Assessment detailing the Spodden Valley site can be found here.
News:
Homes to die for (9/28/05)
Asbestos: The lies that killed (8/28/08)
Further asbestos contamination confirmed at former TBA Spodden Valley site (3/1/13)
2. Szczucin, Poland
Szczucin, a small town of about 14,000 inhabitants in southeastern Poland, was the location of an active asbestos plant from 1959 to 1997. Soon after the plant's opening, legal regulations permitted the surrounding community to utilize the asbestos cement wastes for their own purposes. For 30 years, the plant's asbestos waste was used for a multitude of local construction and handiwork project ranging from paving local roads and farmyards to knitting sweaters and rugs. Analyses indicate that 55% of the community's inhabitants are environmentally exposed to high concentrations of asbestos. Cases of mesothelioma were first detected among factory workers and inhabitants in the late 1980s. Since the mid-1990s, educational programs with an emphasized focus on children and juveniles have been implemented to increase awareness of the dangers of asbestos and safe handling of asbestos-containing material. The original dumping site of the asbestos plant has been suitably remediated and the removal of asbestos-containing pavement and other constructions in the community is still underway. However, the detrimental health effects of asbestos contamination in the region have remained unsolved. Although regulations have ensured that occupationally exposed individuals receive compensation, there are no regulations in place demanding compensation for the area's inhabitants that did not work in the industry. A Global Asbestos Impact Assessment detailing the Szczucin site can be found here. A report from the Polish Mineral Engineering Society can be found here.
News:
Removal of asbestos in Poland dragging (11/25/14)
Research:
Asbestos Concentrations and Lung Restrictive Patterns (9/9/10)
3. Cappadocian Region, Turkey: Tuzköy
Several villages in the Cappadocian region of Turkey, including Karain, Tahar, and Tuzköy, have experienced epidemics of erionite-inflicted mesothelioma that are responsible for almost fifty percent of all village deaths. Erionite, an asbestos-like fibrous mineral found in volcanic rock in the Turkish Anatolian Plateau region, was used frequently by these villages as a building material in houses and food storage areas for its insulation qualities. Like asbestos, erionite fibers can be released into the air and ingested, causing mesothelioma and other cancerous lung diseases. However, erionite fibers are 200 to 800 times more carcinogenic than asbestos. Brushing and washing the erionite walls only worsened the exposure of village residents over time. An investigation linking erionite to local cases of mesothelioma began in 1979, but it was not until 3 decades later that Tuzköy's mayor gained approval for government-loaned construction of new homes on safe ground away from the original village. A similar plan is underway in Karain. However, those villagers that had already been forced to build new homes elsewhere complain that they have been unfairly excluded from the government's newfound support, and many villagers insist on remaining in their old homes to accommodate growing families. A report on the Cappadocian mesothelioma villages by an Ankara University researcher can be found here.
News:
Volcanic rock linked to cancer (May 2006)
Turkey: End in Sight for "Cancer Village" (5/13/13)
Research:
Pleural calcification, pleural mesotheliomas, and bronchial cancers caused by tremolite dust (1980)
Assessment of Environmental Asbestos Exposure in Turkey by Bronchoalveolar Lavage (1998)
4. Hyogo Prefecture, Japan: Amagasaki
Amagasaki is an industrial town of 460,000 residents in the Hyogo Prefecture of Japan. The local Kubota Corporation industry produced asbestos-cement piping starting in 1954. The company moved its production to Kakogawa in 1973, but the asbestos contaminant released from their previous activities in Amagasaki continued to pose a risk to the community. In 2005, studies indicated that environmental asbestos exposure alone had increased the prevalence of mesothelioma in Amagasaki residents living in a 500m radius of the facility to 9.5 times the national average. Large volumes of asbestos-contaminated soil, at least some of which were believed to be caused by leakage of asbestos-contaminated water from the factory, continue to remain at the site. However, a company representative has assured the Amagasaki municipal government that all identified sites of asbestos-contaminated soil were properly remediated. A compensation agreement between the president of Kubota and Amagasaki asbestos victims and their families was reached in 2006. A Global Asbestos Impact Assessment detailing the Amagasaki site can be found here. A report covering an international asbestos conference for fair and equal compensation focusing on the Amagasaki site can be found here.
News:
Kubota apologizes for asbestos (12/26/05)
Silence over asbestos-related cancer deaths in 1980s draws renewed condemnation (6/26/15)
Editorial: Asbestos health damage has yet to peak (7/1/15)
Research:
Mapping the Risk of Mesothelioma Due to Neighborhood Asbestos Exposure (2008)
5. Pilbara Region, Western Australia: Wittenoom
The Wittenoom mining plant in the Pilbara region of Western Australia began extracting blue crocidolite asbestos in 1939. In 1943, the Colonial Sugar Refinery (CSR) purchased the facility and continued to mine crocidolite until 1966. The plant employed 7,000 men and women and the company established the housing and facilities of Wittenoom Township to accompany their 13,000 family members, around 7,000 of which were children. It was later confirmed that the CSR knew of the carcinogenic dangers of asbestos mining and processing that they posed to the plant workers and their families. The first case of mesothelioma in the community was identified in 1962, but the CSR didn't close their mining operation until 1966 under the reasoning of diminished profitability and falling asbestos prices. The town was virtually abandoned by 2007, and 150,000 tons of raw, exposed asbestos fibers still remain at the site. More than 2000 of the residents of Wittenoom Township during the CSR's operations have died so far. Further details on Wittenoom's asbestos mining history can be found here.
News:
Wittenoom's asbestos history still looms large but some residents won't leave (5/11/15)
Geotechnical work to begin in Wittenoom to determine how to clean up the contaminated site (5/17/15)
'Where is better than here?' last six residents of Wittenoom resist efforts to close asbestos mining town (12/15/15)
Community:
Shattered Lives: the human face of the asbestos tragedy (2008)
Research:
Prediction of mesothelioma, lung cancer, and asbestosis in former Wittenoom asbestos workers (1991)
6. Canberra, Queanbeyan Territories, Western Australia: Mr. Fluffy Asbestos Insulation
From 1968 to 1979, a private contractor named "Mr. Fluffy" insulated the roofing of residential homes in the Canberra and Queanbeyan regions of Australia with friable asbestos, a particularly loose form of asbestos material that can be pulverized and become airborne easily. In 1989, the Australian government conducted a survey of residential buildings and found a total of 1050 homes containing friable asbestos material. In response, the government funded an extensive Loose Asbestos Removal Program for the affected homes. However, in 2013, further assessment revealed that large extents of inaccessible asbestos insulation were still present in these homes. In 2014, the Mr. Fluffy Action Group was formed to address the grievances of affected homeowners and cooperate with government efforts towards more effective remediation. Currently, the government is considering total demolition of affected homes as the most comprehensive assurance of friable asbestos removal. Updates and further information can be found on the council site.
News:
Mr. Fluffy owner offered bulldozed block at just $10K less than compensation total (2/3/16)
Asbestos taskforce releases photos of some of worst contamination found to date (2/26/16)
Chief Minister Andrew Barr all-but abandons Fluffy board of inquiry (3/3/16)
Map altered from Blank World Map Slate.svg, provided by $200inaire on Wikimedia Commons, under the Creative Commons Attribution Share-Alike 3.0 Unported License. URL: https://commons.wikimedia.org/wiki/File:Blank_World_Map_Slate.svg