The BUP: Clinical Care
Saving Lives in Botswana
In 2004 Penn received funding from the US Public Health Service through PEPFAR (President's Emergency Plan for AIDS Relief), which is a program that provides US Public Health Service funding to 16 affected nations, including Botswana. A combination of PEPFAR funds and research grants currently support approximately 60 full-time physicians, nurses, social workers, and auxiliary health personnel working for Penn in Botswana.
BUP Health care Provision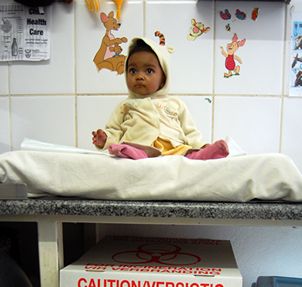 Our doctors and other health care personnel provide inpatient care on the medical wards at Princess Marina and Nyangabgwe Hospitals, outpatient care in the HIV clinics, and outreach inpatient and outpatient care at the surrounding district hospitals and local government clinics (see map below). In addition, Penn physicians and nurses run a referral clinic for complicated HIV/TB co-infected patients.
Clinical Areas:
Tuberculosis
Dermatology
Pediatrics
BUP Clinical Initiative: Stories
2014