The BUP
Our Mission
The BUP believes that quality medicine should be available to populations in need. Through clinical care, research and medical education, the BUP is devoted to building capacity in sustainable and high quality healthcare in Botswana.
The Partnership
The Botswana-UPenn Partnership (BUP) is comprised of three main partners; the Government of Botswana, the University of Botswana and the University of Pennsylvania.
BUP Programs
We take a broad interdisciplinary approach to building health care capacity in Botswana through three programs;
Clinical Care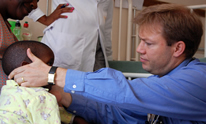 We provide expert care focusing in areas related to HIV, Tuberculosis, and Cervical Cancer including co-morbid, multi-drug resistant and complicated cases. This care includes the use and development of telemedicine programs linking patients to specialists in Botswana and the US...Learn More
Education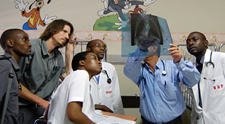 The BUP has two main medical education initiatives, one directed at training medical students, Health Care Workers and trainees in Botswana, and another directed at educating Penn students and trainees.
The first program is a collaboration with UB School of Medicine, and the Harvard School of Public Health, under MEPI (Medical Education Partnership Initiative)...Learn More
Research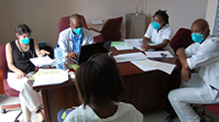 The BUP has 5 major NIH grants and many pilot projects funded by the Penn Center for AIDS Research (CFAR) and others.
BUP research clinicians contribute to the development of the Botswna Ministry of Health's National Guidelines.
BUP-affiliated researchers in Botswana and at Penn have co-authored more than 85 scientific articles to date...Learn More
Why?
In 2001, shortages of medical professionals, coupled with a high prevalence of HIV/AIDS led to a national health crisis in Botswana. Today, the numbers have improved, though proportions of doctors, to total population, to prevalence of HIV infection rates between the US and Botswana remain disparate, as seen below.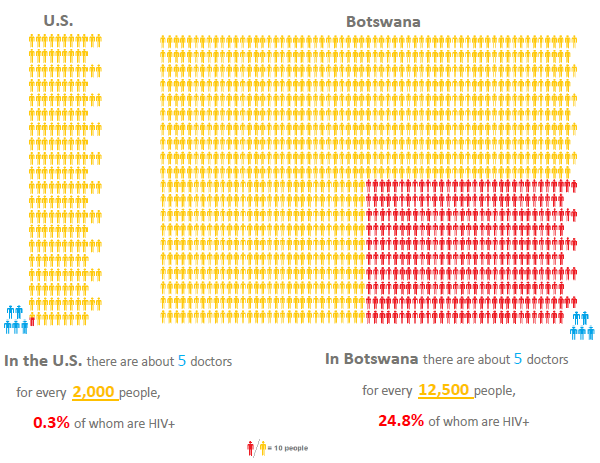 History: The Relationship Forms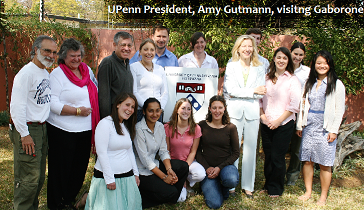 In 2001, the African Comprehensive HIV/AIDS Partnership (ACHAP), which is a collaboration of the Bill and Melinda Gates Foundation, the Merck Foundation and the Government of Botswana, approached Penn Medicine's HIV/AIDS experts with a request to help train local providers as Botswana implemented its national HIV treatment and prevention programs.
Botswana is among the most economically stable African nations and has a national healthcare system, but also has one of the highest HIV/AIDS infection rates in the world. The adult HIV prevalence rate in Botswana is estimated at nearly 24%, second only to Swaziland. With the government of Botswana determined to control HIV/AIDS, the Infectious Disease Division at Penn Medicine was eager to help.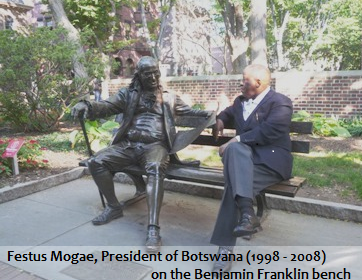 Penn's doctors were soon rounding at the Princess Marina Hospital, the major public hospital in the capital city, Gaborone. Penn physicians worked directly to train local providers with daily conferences and "bedside" teaching. The experiences were deeply moving and profoundly motivating. Many saw Botswana as an ideal site to involve medical students, interns and residents in global health training. Formal agreements were reached with the government of Botswana for medical and nursing care, education and research.
Program Development
The Perelman School of Medicine's commitment in Botswana expanded rapidly after 2001, incorporating many aspects of clinical care and more recently, educational exchanges and research projects with the University of Botswana. Penn maintains a strong medical presence in Botswana, with more than 80 doctors and staff living full time in-country advancing the work of the Botswana-UPenn Partnership. The partnership now includes other schools of the University of Pennsylvania beyond the School of Medicine with more than a hundred Penn students, residents, researchers, and faculty traveling to Botswana each year for educational and research experiences working with our partners in country in a multi-cultural, multi-faceted effort.
We also welcome a number of students and scholars from Botswana each year to collaborate with us on educational and research projects on Penn's campus in Philadelphia and we look forward to expanding those exchanges in the future.
What's in a name?
Why UPenn? The University of Pennsylvania is one of eight Ivy League universities in the United States. Founded in 1751 by Benjamin Franklin, Penn is recognized as America's first university and is home to the nation's first medical school (Perelman School of Medicine at the University of Pennsylvania), teaching hospital (Pennsylvania Hospital), and business school (the Wharton School).
Located in Philadelphia, the university's name is abbreviated to "Penn." But Penn, is NOT the same institution as Penn State, Penn and Penn State are often confused. In Botswana we go by UPenn, to clarify that we are UPenn…the University of Pennsylvania.