Peisong Ma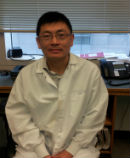 Peisong Ma
Research Assistant Professor
peisong@maill.med.upenn.edu
I graduated from the National University of Singapore in July, 2004, and currently a research investigator in the lab.

I am working on the role the spinophilin/RGS/SHP-1 complex during platelet activation and identify novel signaling proteins that interact with spinophilin in platelets and determining whether there are additional mechanisms by which spinophilin can serve as either a master regulator or organizer of platelet activation.
© The Trustees of the University of Pennsylvania | Site best viewed in a supported browser. | Site Design: PMACS Web Team.