Mind Your Brain Conference
Mission Statement:
The mission of the Mind your Brain @ Penn Medicine conference is to enhance, through education, advocacy, support, and research, the quality of life for those affected by brain injury, including patients, survivors, families and caregivers. All affected by brain injury should, and can, have immediate and equal access to services and support to help lead full and meaningful lives.
Conference Description:
In March, 2018, during Brain Injury Awareness Month, Penn Medicine will be hosting Mind Your Brain @ Penn Medicine, a conference for brain injury survivors, families, caregivers, and interested parties to connect to resources and information that can help on the journey to recovery. This dynamic program will include presentations, interactive discussions and resource sharing by a variety of authorities. This includes Penn Medicine's experts on neuroscience and brain injury, former professional athletes, physical, occupational, and speech therapists, and brain injury survivors. This program will focus on sharing research, insights, and therapies designed to address the personal and medical issues of those impacted by brain injury.
We are proud to offer this program, free of cost, to brain injury survivors, families, and caregivers. If you are interested in making a donation to support this event, please visit http://givingpages.upenn.edu/mindyourbrain
---
---
Mind Your Brain Heroes – 2017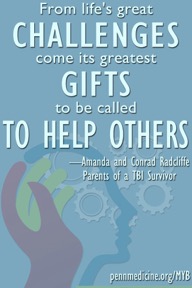 Antoinette Radcliffe was an exceptional student, passionate leader, and compassionate high school student. While on a Global Leadership Institute trip to Costa Rica in July, she suffered a TBI while playing soccer. A severe concussion led to seizures and she missed most of her senior year, deeply suffering with the agonizing symptoms of TBI. She managed to graduate and matriculate, but not with the joy that she, or we, had expected. It's been a long hard road of recovery, advocacy, and determination. Our daughter has worked tirelessly, overcome so many obstacles, and is now a junior at Penn, with a unique and remarkable empathy and compassion for her pursuit of a career in pediatric neurology. In addition to her studies, she makes time to be a campus EMT, leads Penn Speaks for Autism, and volunteers at CHOP. Her calling to this area of medicine was born of her deep love for her special needs brother, but her own experience, and her long and very brave recovery, will inspire her to be all the more a truly wonderful, compassionate and empathetic physician. We're so crazy proud of her.
"From life's great challenges come its greatest gifts to be called to help others. Her long and very brave recovery, will inspire her to be all the more a truly wonderful, compassionate and empathetic physician" - Amanda & Conrad Radcliffe, Parents of a TBI Survivor
_________________________________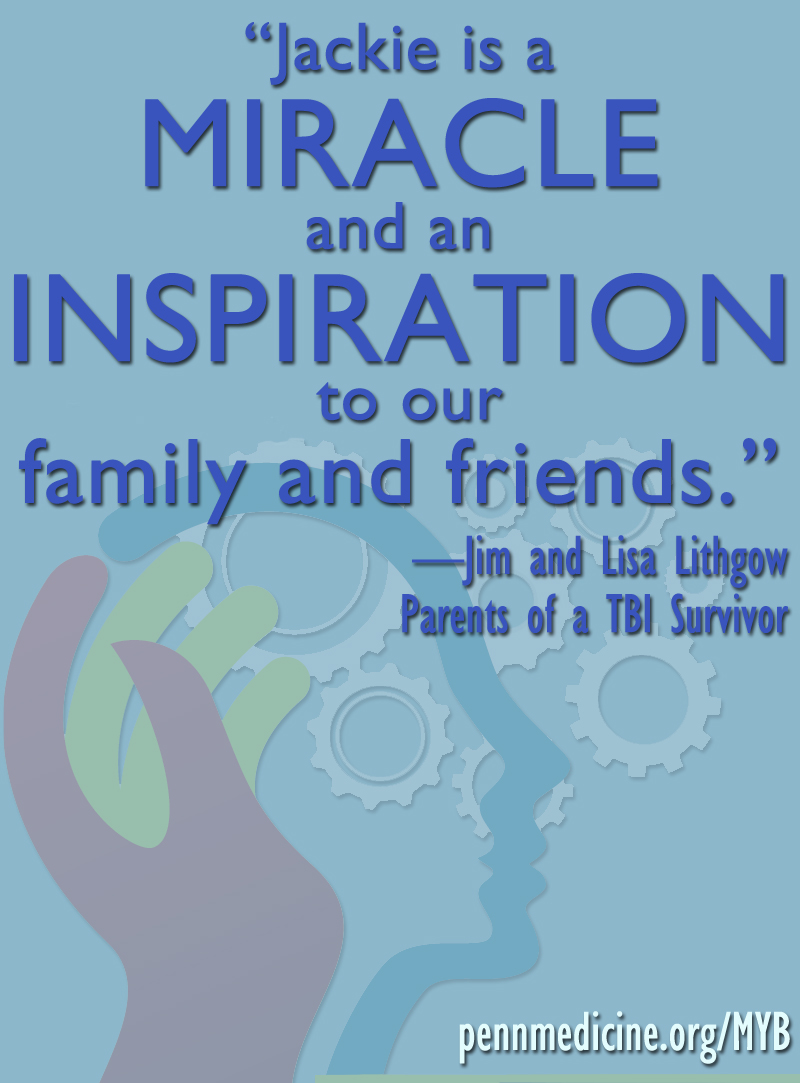 Jackie Lithgow suffered major head injuries when he was severely beaten while trying to break up a fight at an off-campus frat party in February, 2014. Due to the severity of his injuries, he was hospitalized for nine months. But after a tumultuous recovery, Jackie began taking college courses again January, 2016. "Jackie is a miracle and an inspiration to our family and friends. His fortitude, his 'never say never' attitude, and his ability to make those around him better people, truly personifies his marathon to recovery." – Jim Lithgow, Parent of a Brain Injury Survivor
_________________________________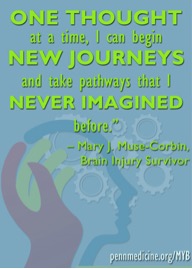 In a near fatal car accident in 2006, Mary J. Muse-Corbin incurred a traumatic brain injury. She has since immersed herself in culinary arts to assist her recovery.
"What could be perceived as a disability has enabled me to appreciate life on another level. Although I've experienced great difficulty, I have learned to embrace the "new me" and accept life's unexpected changes. Every day that I awake: I pray, smile, place my feet on the floor and gather the strength to encourage myself and, hopefully others, by acknowledging life's limitless possibilities. The more readily I realize today's truths and challenges, the more forgiveness yesterday offers; affording me the gratefulness of the simpler, yet most valuable things in life, such as breathing deeply and exhaling. All of my senses, that I no longer take for granted, have proven that my mind, my thoughts and my dreams are my own. One thought at a time, I can begin new journeys and take pathways that I never imagined before." – Mary J. Muse-Corbin, Brain Injury Survivor
---
2016 Conference Catalog
View some of the exciting 2016 MYB conference sessions here.
---
On July 19, 2005, Candace Gantt suffered a serious brain injury after being struck by a car while riding her bicycle. Following an extensive hospitalization and surgeries at Penn Medicine, she was back on her bike just six months after the accident.