Related Events
A list of neurodegenerative disease-related events hosted by CNDR partners and collaborators.
Penn's 5th Annual 5K for the IOA & The Memory Mile Walk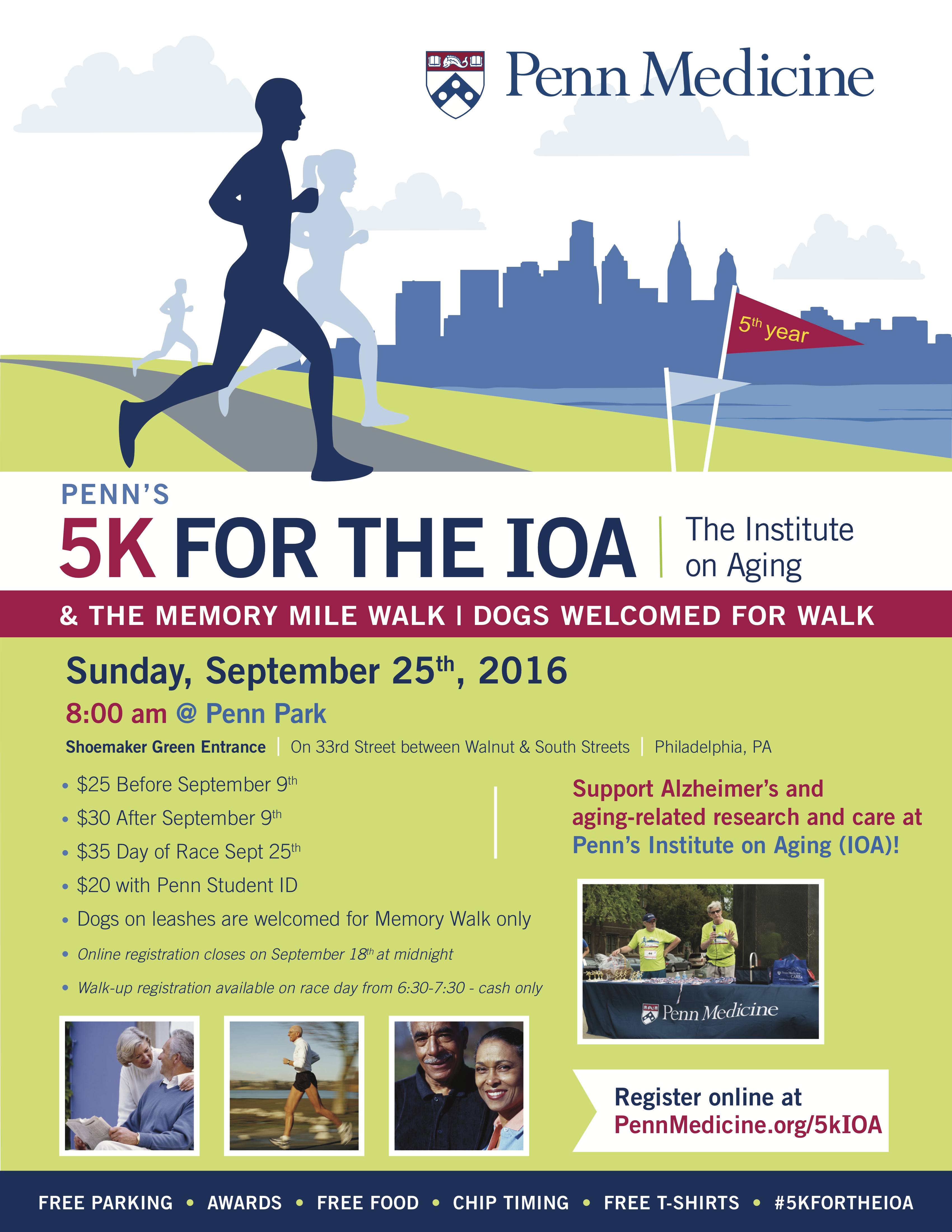 Support Alzheimer's and aging-related research and care at Penn's Institute on Aging!
Sunday, September 25, 2016 | 8:00am | Penn Park
* Dogs are welcomed for the walk! *
Close section
---
A Walk to Stamp Out Parkinson's
Hosted by The Parkinson Council
Saturday, October 8, 2016
7:30 am — 10:45 am
MLK/West River Drive
Philadelphia, PA
Close section
---
Past Related Events
Penn Medicine Town Hall Meeting on ADRD Funding Opportunities
On Wednesday, June 1, 2016, the University of Pennsylvania Perelman School of Medicine's Institute on Aging (IOA), Center for Neurodegenerative Disease Research (CNDR), and Penn Translational Neuroscience Center (PTNC) co-hosted their first Town Hall Meeting, open to all interested University of Pennsylvania researchers.
The idea behind this joint effort is to increase the awareness and knowledge of the variety of available National Institutes of Health (NIH) funding opportunities relating to Alzheimer's disease and related disorders (ADRD) and the neurosciences, with many already underway here at Penn.
For more information, including a full event recap, speakers, interview and virtual tour videos, current funding opportunities, and more, visit:
IOA's Town Hall Meeting webpage
Close section
© The Trustees of the University of Pennsylvania | Site best viewed in a supported browser. | Site Design: PMACS Web Team.