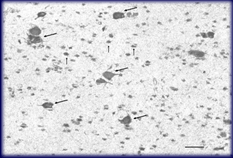 Our lab is interested in defining how malformations of the brain occur during development and understanding why many of these malformations are associated with epilepsy, mental retardation, and autism. We use molecular and cell biological techniques to study how altered expression of genes and proteins may lead to disorganized brain formation. Our particular strategy is to use cDNA array technologies to assay different gene families including neurotransmitter receptor subunits, uptake sites, ion channels, cell signaling molecules, transcription factors, adhesion molecules, growth factors, and structural molecules in human brain tissue and in several animal models of brain malformations. Our lab is fully funded through the National Institutes of Health (NIH) and various private organizations including The Tuberous Sclerosis Alliance, The Esther A. and Joseph Klingenstein Foundation, and Parents Against Childhood Epilepsy (P.A.C.E.).




Our specific interests include:
Tuberous Sclerosis Complex
Cortical Dysplasia
Hemimegalencephaly
Ganglioglioma/Gangliocytoma
Periventricular Nodular Heteorotpia
Most of the brain tissue that we study is obtained during epilepsy surgery from patients with select brain malformations with intractable epilepsy (see link to Department of Neurosurgery). Some tissue is obtained post-mortem. We are interested in discussing brain tissue donation with patients or patient families from around the country.


Acrobat Reader required. Download it here.