Services Offered
Neuropsychological Testing
In criminal and civil cases, we use a comprehensive neurobehavioral approach to elucidate brain-behavior relationships. We typically assess the following three aspects of brain structure and function: Behavior (neuropsychological testing), structural brain anatomy with magnetic resonance imaging (MRI) and physiological brain activity with positron emission tomography (PET).
Neuropsychological testing can measure intellectual capacity, attention, executive function, memory, language reasoning, visuo-spatial abilities, sensory motor skills, emotion processing and personality functioning. These data can be submitted to quantitative algorithms that provide estimates of likelihood that an individual suffers from brain dysfunction.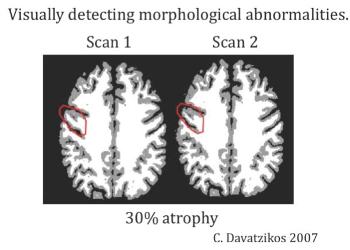 With structural neuroimaging (MRI) we perform a quantitative volumetric analysis of the data. Notably, clinical reading of the MRI can establish some diagnoses, especially focal lesions produced by tumors, cerebrovascular disease, demyelinating disorders, some forms of dementia and severe head injuries. Other brain disorders, including those resulting from acute asphyxia or mild traumatic brain injury, may not necessarily manifest themselves in clinically detectible changes, and volumetric analysis is needed to establish regional abnormalities. This is illustrated in the Figure.
Finally, a PET scan of the brain assesses physiological (or "functional") brain activity. In disorders such as epilepsy, Parkinson's disease, mild traumatic brain injuries, and most neuropsychiatric disorders, including subtypes of schizophrenia, MRI shows minimal changes, yet regional brain activity is severely disturbed. These brain disorders require functional neuroimaging measurements of regional brain metabolic activity, such as those that can be obtained with positron emission tomography (PET). Here to we emphasize quantitative analysis of the PET data.
To learn more about our Neuropsychological Testing services or to speak with one of our experts, please call
215-222-3200 ext. 106.
More Information
To learn more about the Forensic Psychiatry Service or to speak with one of our experts, please call
215-614-0959.