Chairman's Report - Spring 2012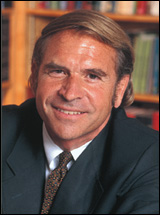 2012 is a milestone year in the history of our profession and Department. It is the bicentennial year of the beginning of academic psychiatry in America here at Penn, and the 100th anniversary of the official formation of the Department of Psychiatry at the University of Pennsylvania.
Looking back every now and then helps us appreciate our lineage, and encourages our efforts to take our places in a proud succession of world-acclaimed educators, scholars, and clinicians. 2012 reminds us of the extraordinary privilege it is to be at an institution where – over centuries – so many have contributed so much to our Department's rich tradition, and to the discipline of psychiatry.
The image of Benjamin Rush adorns the cover of our Department's newsletter, and the story of psychiatry at Penn – and in America itself – begins with him. In 1769, Rush returned from his medical training in Edinburgh, Scotland to accept appointment as America's first Chair of Chemistry in the medical faculty at the College of Philadelphia, later the University of Pennsylvania. He thus became one of the earliest teachers in the nation's first medical school, formed only four years before in 1765. Rush was a "man for all seasons," gaining fame as a great physician, eloquent lecturer, prolific scholar, Dean of the Penn medical school, philanthropist, and signer of the Declaration of Independence, among many other pursuits.
Rush was also the world's leading expert on mental diseases in the late eighteenth and early nineteenth centuries. According to historians David Cooper and Marshall Ledger (Innovation and Tradition at the University of Pennsylvania School of Medicine: An Anecdotal Journey, 1990), Rush joined the staff of Pennsylvania Hospital in 1783 and soon became interested in the two dozen mentally ill patients residing there. He worked to improve their physical environment, successfully organizing the effort to build a ward for them at the hospital in the 1790's, and he studied the patients intensively.
In 1812, only a year before his death, Rush's long period of observation and reflection culminated in his Medical Inquiries and Observations Upon Diseases of the Mind, the first American textbook of psychiatry. This volume, which offered new approaches for treating the mentally ill, forever identified him as the "Father of American Psychiatry" and Penn as the "Birthplace of American Psychiatry." Interestingly, too, Rush staunchly opposed excessive alcohol consumption and proposed new ways to treat this addiction, a topical link to one of our Department's current strengths.
From this momentous peak, however, the study and treatment of mental illness, and the instruction of students in the discipline, meandered at Penn and elsewhere for most of the nineteenth century. Penn medical students were instructed in psychiatry primarily through lectures. They did see some patients at Pennsylvania Hospital and, after 1841, at the mental hospital ("insane asylum") located nearby in West Philadelphia, but exposure to psychiatry was limited and not a focus at Penn or elsewhere.
Not until the 1880's did the study of mental illness begin to assume a prominent place in the institution. In 1883, John J. Reese, Professor of Medical Jurisprudence and Toxicology, became the first Penn faculty member to lead an explicitly named program on "mental diseases." Reese was followed by Charles K. Mills, who developed an interest in mental diseases in the 1880s, supplementing his interest in neurology. Mills wrote about the neurological aspects of the "criminally insane" and participated in the post-mortem examination in 1882 of Charles Guiteau, President James Garfield's assassin. Tying back to Rush and forward to our Department today, both Reese and Mills treated alcoholism and drug addiction.
Mills was professor of mental diseases and medical jurisprudence until 1901. He was succeeded by Charles W. Burr, also a distinguished neurologist, who was appointed Penn's first Chair of Mental Diseases. According to medical school historian George Corner (Two Centuries of Medicine: A History of the School of Medicine, University of Pennsylvania, 1965), this appointment "marked the University of Pennsylvania's recognition of psychiatry as a separate discipline." In 1912, a full century after the publication of Rush's seminal work, the Department of Psychiatry was formally established under Burr's leadership.
In many respects, the success of our Department since its official formation is even more impressive than what came before. Many of psychiatry's most distinguished luminaries have passed through our halls over the past century. Many are working in the Department today and have been featured in the pages of this newsletter. I'm confident that we have more than held our own over the past 100 years. Granted, competing against a signer of the Declaration of Independence who founded the study of mental illness in America is a tall challenge, but it's one we aspire to. As we enter the third century of psychiatry at Penn, let's redouble our efforts to educate the next generation of psychiatrists, conduct discovery research on the the causes, prevention, and treatment of mental illness, and care for those who suffer from these diseases and disorders.
Dwight L. Evans, MD
Ruth Meltzer Professor and Chair
Professor of Psychiatry, Medicine and Neuroscience
Contact information:
305 Blockley Hall
423 Guardian Drive
Philadelphia, PA 19104
Office: 215-662-2818
Fax: 215-662-6911
Email: dlevans@mail.med.upenn.edu
Back to Top