Psychiatric Emergency Evaluation Center (PEEC)
The Psychiatric Emergency and Evaluation Center (PEEC) evaluates and assesses patients in need of emergency mental health treatment. Located on the ground floor of the Ravdin Building at the Hospital of the University of Pennsylvania (HUP) at 34th and Spruce Streets, the PEEC is open 24 hours a day, 7 days a week. Patients presenting to the HUP and Penn Presbyterian Medical Center emergency departments with psychiatric emergencies are referred to the PEEC after initial triage.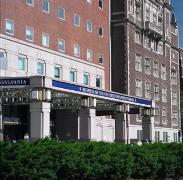 The PEEC safely manages these patients in an environment designed to provide therapeutic evaluation of their needs. Patients may also be sent directly to the PEEC by referring physicians, outpatient therapists, student health centers and local hospitals and mental health facilities. Walk-ins are accepted after initial triage and registration in the emergency department.
A team of mental health professionals specializing in the care of psychiatric emergencies provides psychiatric evaluation, crisis intervention, emergency behavioral stabilization, medication treatment and brief observation. The team consists of registered nurses, trained crisis counselors, psychiatric resident physicians and attending psychiatrists.
All staff members in the PEEC are highly trained in evaluating the safety risks to individuals in crisis and providing referrals to the most appropriate level of care, including inpatient psychiatric or dual diagnosis units, partial hospitalization programs, drug and alcohol rehabilitation or outpatient therapy.
Back to Top