Ratheesh Kalarot, Ph.D.
---
Software Developer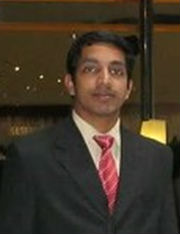 Section of Biomedical Image Analysis
Center for Biomedical Image Computing & Analytics
Department of Radiology
Perelman School of Medicine
University of Pennsylvania

Richards Medical Research Laboratories, Floor 7
3700 Hamilton Walk
Philadelphia, PA 19104
fax: (001) 215.573.1811
email: Ratheesh.Kalarot@uphs.upenn.edu
Educational Background
Ph.D. in Computer Vision - University of Auckland (Auckland, New Zealand)
M.Tech. in Software Engineering- Cochin University of Science and Technology (Kochi, India)
B. Tech. in Information Technology - Mahatma Gandhi University (Kottayam, India)
Research Interests
DTI, Tractography, 3D Visualization, Computer Vision and Machine Learning applications.
For a full list of publications you can go to: Google Scholar.
Selected Publications
A Neurobehavioral framework for Autonomous Animation of Virtual Human Faces. M Sagar, D Bullivant, P Robertson, O Efimov, K Jawed, R Kalarot, T Wu. Autonomous Virtual Humans and Social Robot for Telepresence, SIGGRAPH Asia, 2014 ACM.
3D object Tracking with a High-resolution GPU based Real-time Stereo. R Kalarot, G Gimel'farb, J Morris. The 27th Image and Vision Computing New Zealand Conference (IVCNZ), 2012 IEEE.
Comparison of FPGA and GPU implementations of real-time stereo vision. R Kalarot and J Morris. Computer Vision and Pattern Recognition Workshops (CVPRW), 2010 IEEE.
Analysis of Real-Time Stereo Vision Algorithms On GPU. R Kalarot, J Morris, D Berry, J Dunning. International Conference Image and Vision Computing New Zealand (IVCNZ) 2011
IEEE.
Implementation of Symmetric Dynamic Programming Stereo Matching Algorithm Using CUDA. R Kalarot, J Morris. 16th Korea-Japan Joint Workshop on Frontiers of Computer Vision, 2010.
Real-time correlogram tracking for airborne traffic surveillance. R Kalarot, J Morris Image and Vision Computing New Zealand. IVCNZ'09. 24th International Conference, 2009 IEEE.
Motion Segmentation and Meanshift Assisted Contour Refinement for Airborne Video. R Kalarot, S Rao, S G. Proc. of the IADIS International Conference on Computer Graphics and Visualization, 2009.
Multi DVR video packaging for incident forensics. D Subbian, MS Salgar, R Kalarot, European Patent 2247-109, 2009.
Software