Society for Clinical Research Coordination and Management
Announcements
11/15/2017
SCRCM 2017 Winter Holiday Party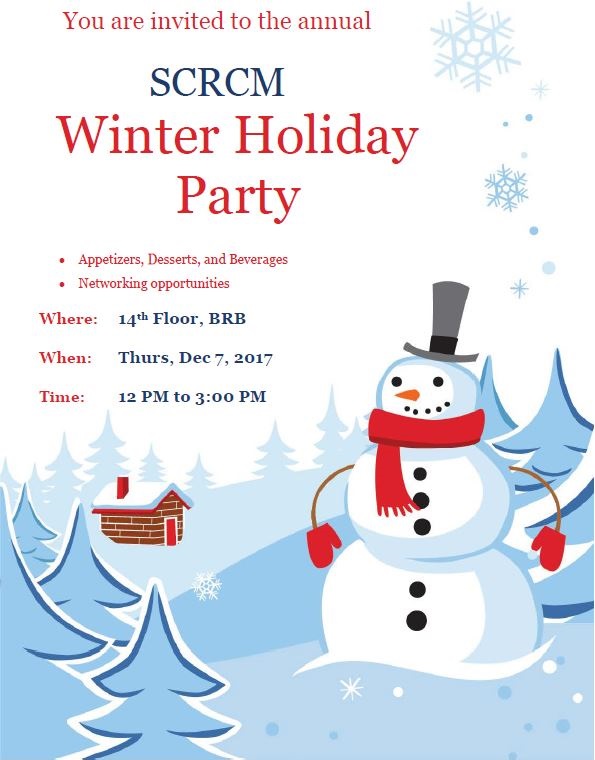 11/09/17
Clinical Trials Radio Blog presents "Dr. Carl June's CAR-T Cell Journey and the Cancer Treatment Revolution"
The Office of Clinical Research (OCR) has partnered with TrialX's Cure Talk, a global online radio blog platform, to host an online interview with Dr. Carl June, his CAR-T cell journey and to understand nuances of the CAR therapy.
Questions? Please contact the Office of Clinical Research (OCR) at psom-ocr@pobox.upenn.edu or 215-662-4484
11/07/2017
IRB Bulletin - Penn Wide Announcements for Active Researchers
TRAINING ANNOUNCEMENTS
What's Up Next? Common Rule and the New Frontier of Research
Friday December 1, 2017 - 10:00am - Flyers/Sixers Surgery Theatre
IRB 101 – Creating Your Research Application
Monday November 13, 2017 – 9:30am – IRB Conference Room 3800 Spruce St, Rm. 151
EVENT ANNOUNCEMENTS
Community Driven Research Day
Tuesday December 6, 2017-Temple University, Howard Gittis Student Center, 1755 N. 13th St, Room 200 A & B
POLICY UPDATES
Expanded Access: FDA Describes Efforts to Ease Application Process
For more details, please refer to email or contact the IRB.
---
11/06/2017
Care Everywhere access in PennChart and Research Use
This communication is in response to recent access requests and questions about whether Care Everywhere.
After several discussions, it has been decided that for the time being, Care Everywhere use for Research is not permitted. Epic, which sponsors Care Everywhere, has made clear in its Rules of the Road, which all EPIC using institutions must agree to, that Care Everywhere may be used for treatment purposes only and that Care Everywhere may not be used for research purposes.
For more details, please refer to email or contact OCR.
---
10/13/2017
Don`t Forget Your Flu Shot
Penn faculty and staff can prepare for flu season with a free influenza vaccine on-campus at one of the University convenient clinics. Visit UPenn Flu Clinic Website for details.
HUP employees or those with a hospital login can receive a flu shot by printing a form through UPHS Intranet.
---
10/06/2017
Message from Information Services UPHS VPN Retirement
Due to increased security concerns with the legacy VPN remote access solution, it will be decommissioned at midnight Monday, October 9th. Earlier this year, Information Services introduced a new remote access capability and began enrolling staff.
Please refer to email or contact OCR for more details.
Penn's Way - A Workplace Charitable Campaign
Please consider donating to the University of Pennsylvania Society of Clinical Research Coordination and Management (SCRCM) as part of the Penns Way Campaign. The Penns Way Campaign runs from September 26ththrough November 11th.
How to Make a Pledge:
52534 University Of Pennsylvania - Society for Clinical Research Coordination and Management