About Albert J. Stunkard, MD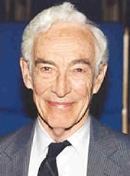 In Memoriam, Albert J. "Mickey" Stunkard
February 7, 1922 - July 12, 2014

The New York Times marked the recent passing of Albert J. Stunkard, MD, former chair of Psychiatry and professor emeritus at Penn.
Dr. Albert (Mickey) Stunkard was world renowned for his pioneering research on the causes, consequences, and treatment of obesity. He began his career at the University of Pennsylvania in 1957 and was a highly energetic and productive investigator at the Center for Weight and Eating Disorders.
His outstanding research and dedication to patient care were recognized by numerous awards, including his election to the Institute of Medicine of the National Academy of Sciences. The University of Pennsylvania similarly sought to honor him with the creation of the Albert J. Stunkard Weight Management Program.
Back to Top