Center Structure
The Administrative Core, Core A, supports the mission of the Penn ADCC by facilitating efforts to increase research and understanding of ADRD as well as mild cognitive impairment (MCI) and healthy brain aging within and beyond Penn. Core A sets the direction of the ADCC, guides development of ADCC programs, and promotes interactions of ADCC investigators with key stakeholders.
Close section
---
The heart of the Clinical Core of the Penn ADCC sits at the Penn Memory Center (PMC). PMC is a multidepartmental clinical and clinical research outpatient center located in the Perelman Center for Advanced Medicine (PCAM).
To achieve the broad goals of the Penn ADCC, the Clinical Core has developed two cohorts: 1) National Alzheimer's Coordinating Center (NACC) UDS Cohort and 2) the PMC Auxiliary Cohort (AC). This model has allowed for successful enrollment in four major areas of investigation of the Center: biomarkers, clinical treatment trials, studies of patient and caregiver decision-making and experience, and the use of postmortem brain samples for transmission studies in vitro and in experimental animals to begin to identify strains of pathology accounting for heterogeneity of ADRD.
Close section
---
Core C: Data Management, Biostatistics, and Bioinformatics Core
Sharon X. Xie, PhD | Core Leader
Core C is responsible for developing and maintaining a database of demographic, clinical, genetic, biomarker and neuropathology (NP) data generated by the Penn ADCC. It provides database and computing support, as well as biostatistics and bioinformatics collaborations for research on AD and related disorders (ADRD) conducted by Penn ADCC investigators, ADCC Pilot grantees, and ADCC collaborators at and beyond Penn. Core C also supports and implements data sharing between the Penn ADCC, NACC, and other NIA-funded programs such as ADNI, particularly the ADNI Biomarker Core which is led by Penn ADCC investigators.
Close section
---
Through the efforts of Core D, the Penn ADCC conducts thorough postmortem central nervous system (CNS) examination on ADCC subjects followed longitudinally in Core B and establishes a neuropathology diagnosis in each case; maintains a bank of unfixed frozen and fixed tissues, DNA, cerebrospinal fluid (CSF) and plasma from ADCC study subjects and distributes these samples to qualified investigators within and beyond Penn for research; and provides advice and support to investigators within and outside the Penn ADCC to foster safe and informative research using human biosamples. This approach enables a comprehensive understanding of an individual patient's genetic risks, clinical manifestations, disease progression and neuropathology.
Close section
---
Core E works to spearhead effective outreach programs that publicize the ADCC, educate families and caregivers, and build and maintain collaborative and trusting relationships with patients and families who participate in the ADCC longitudinal cohort and related studies, especially those in the African American community of West Philadelphia. In addition, Core E assists investigations in developing strategies to recruit and retain subjects for research protocols and clinical trials on AD and related disorders, with a special emphasis on the African American community of West Philadelphia. The work of Core E is described in more detail on the Penn Memory Center website.
Close section
---
Core F, the Research Education Core, focuses on preparing graduate students, postdoctoral candidates and junior faculty to undertake research on ADRD across a wide range of approaches and disciplines. Some candidates will concentrate on combining basic and clinical research skills, while others may delve deeply into a single discipline such as biostatistics or bioinformatics.
Close section
---
---
---
---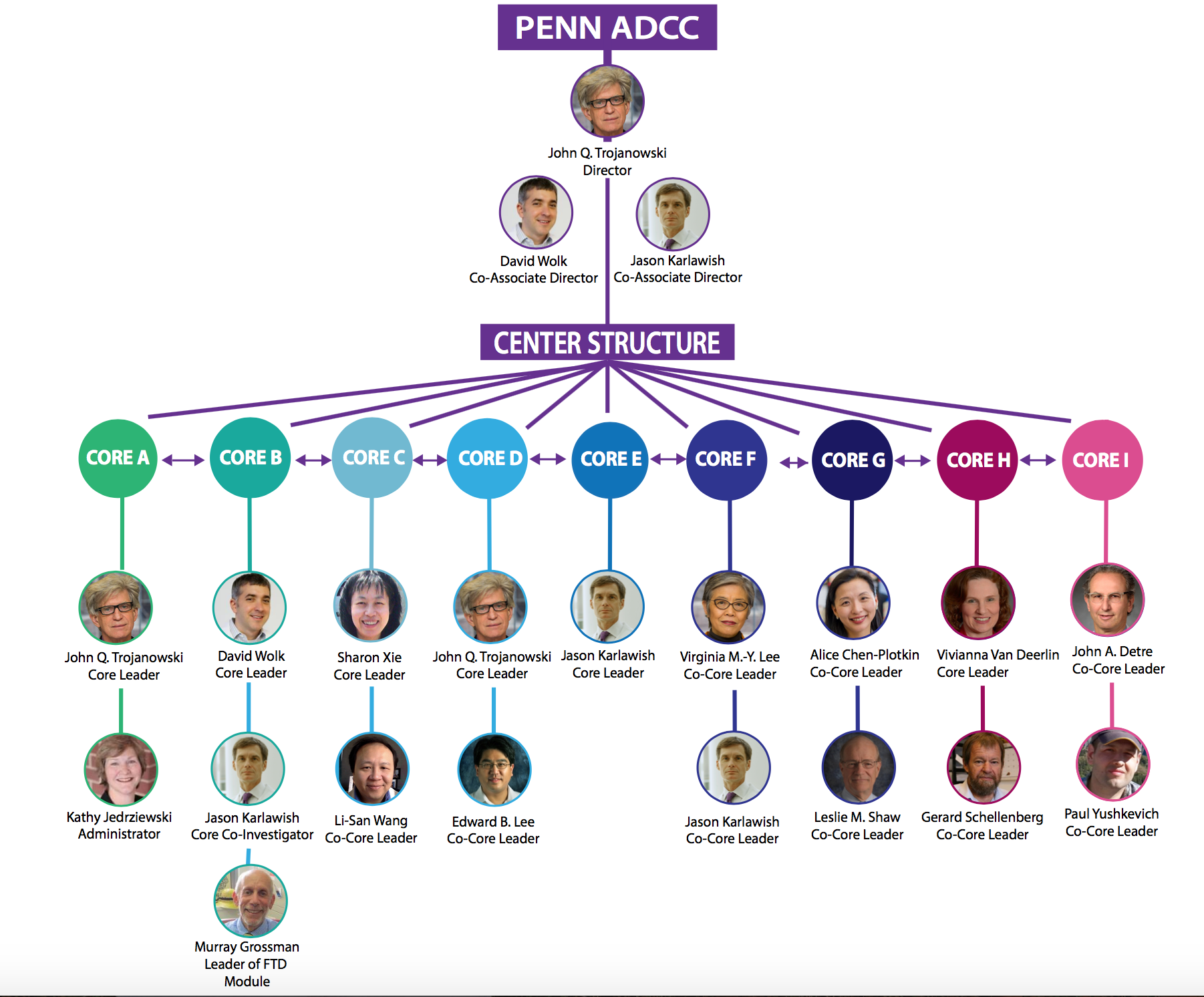 © The Trustees of the University of Pennsylvania | Site best viewed in a supported browser. | Site Design: PMACS Web Team.