Vincent J. Cristofalo, PhD, Annual Lectureship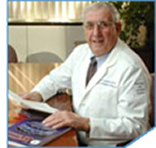 Celebrating the spirit and continuing the research of our colleague, mentor and friend
This endowed Lectureship will serve as an annual tribute to Dr. Vincent Cristofalo, an expert in cellular aging, a cherished mentor, and the founder of the Center for the Study of Aging, now the Institute on Aging (IOA), at the University of Pennsylvania.
About the Cristofalo Annual Lectureship
Vincent J. Cristofalo, PhD, was a pioneer in research in aging, colleague and friend to those who shared his passion for scientific truth, and mentor to many more who today carry on his legacy as investigators and leaders in the fields of aging, biogerontology, and geriatrics.
Our current understanding of the cellular origin of organismal aging is based largely on the principles established by Vince's research. He devoted his investigative endeavors to studying the mechanisms of cellular aging and throughout their course received the prestigious awards of his field. He founded the centers for the study of aging at three of Philadelphia's academic institutions, including here at the University of Pennsylvania, now named the Institute on Aging (IOA).
Vince was always questioning and re-evaluating evidence that linked cellular aging to individual aging, as well as universal assumptions that had been made to explain aging across species. He challenged some of the central dogmas of cellular aging and disproved the long-held tenets that cell life span is related to chronological age of the individual and maximum life span of the species.
His interest in gerontological research extended beyond cellular aging, and he fostered ideas, projects, as well as careers in diverse areas of academic interest related to an aging population. Throughout his professional life, Vince argued that advancement in medicine can only be achieved by advancement in fundamental research, and this he believed was no truer than in geriatric medicine.
As a mentor, Vince taught and trained hundreds of high school students, undergraduates, graduate students, and post-doctoral fellows. He nurtured the development of junior faculty and promoted the careers of both basic science and clinical faculty wherever he was established. Personally, Vince will be remembered as a larger-than-life figure who was warm and thoughtful, but also passionate and possessing a piercing wit.
This annual tribute to Vincent Cristofalo is to acknowledge in perpetuity his contributions to aging research, his critical scientific thinking, as well as his commitment to mentees, colleagues, friends and family.
- Robert Pignolo, MD, PhD
Penn School of Medicine
Giving to the Cristofalo Annual Lectureship Fund
If you would like to make a contribution to the Vincent J. Cristofalo, PhD, Annual Lectureship Fund, please contact:
Elizabeth Yannes
Penn Medicine Development
elyannes@upenn.edu
215-573-4961
---
Cristofalo Annual Lectureship Archive
© The Trustees of the University of Pennsylvania | Site best viewed in a supported browser. | Report Accessibility Issues and Get Help | Site Design: PMACS Web Team.