Tobacco Products and Communication
Overview
The Family Smoking Prevention and Tobacco Control Act of 2009 gave the United States Food and Drug Administration (FDA) authority to regulate tobacco products, including cigarette packaging and graphic warning labels, banning misleading descriptors such as light and low tar that convey the product to be less harmful, as well as setting standards for nicotine content in cigarettes, and the banning of flavorings in cigarettes. Strong empirical support is required to inform policymakers on the most appropriate ways to protect public health through the Tobacco Control Act.
The Tobacco Products and Communication Program within the Center for Interdisciplinary Research for Nicotine Addiction is focused on conducting rigorous human laboratory based research designed to examine challenging issues in tobacco regulatory science. Our goals are to better understand how tobacco products can be properly marketed and labeled so that the public is properly informed about their risks, while also characterizing how use patterns of tobacco products impact nicotine and toxin exposure.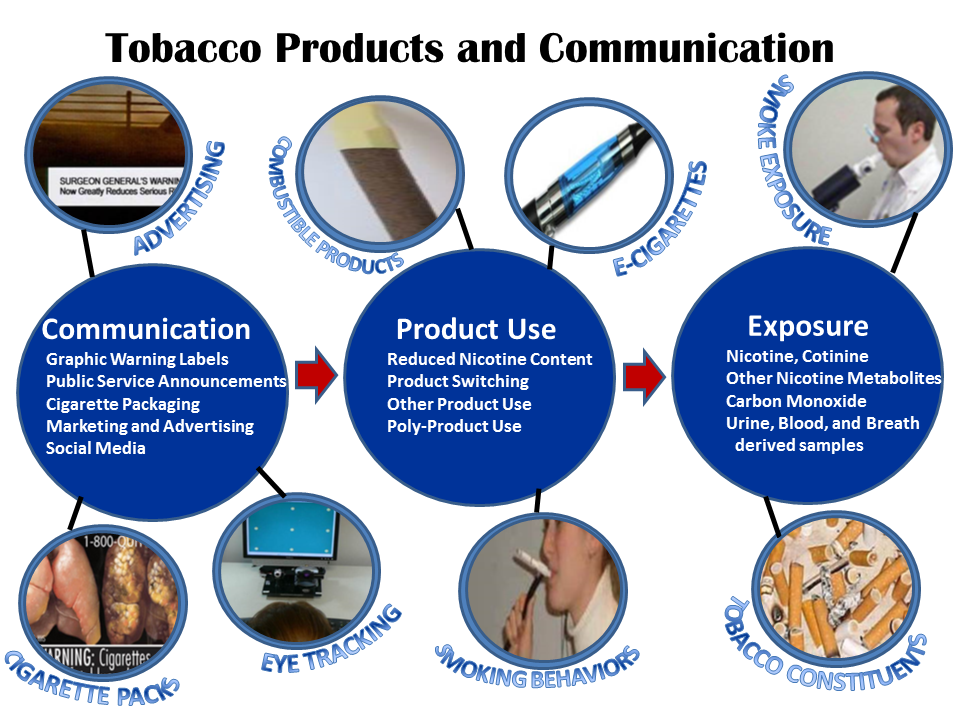 Program Team
♦ Joseph Cappella, Ph.D.
♦ Robert Hornik, Ph.D.
♦ Melissa Mercincavage, Ph.D.
♦ Dan Romer, Ph.D.
♦ Megan Saddleson, Ph.D.
Project Descriptions
Using Eye Tracking to Understand and Improve Graphic Warning Label Effectiveness
Graphic warning labels have proven to be effective in eliciting negative responses to smoking, increasing reported intention to quit smoking, and modifying beliefs about the dangers of smoking. However, much of this research has been conducted at the population level when countries introduced graphic warnings, and therefore potentially confounded by concurrent tax increases and media campaigns. Further, this research is unable to detect what aspects of graphic warning labels make them effective. An important first step in evaluating effectiveness of a graphic warning label is to demonstrate if smokers can correctly recall its content. We have previously demonstrated that how quickly one attends to the text in the label and for how long they dwell, or view, the image, is positively associated with correct recall of the graphic warning label.
Our ongoing research in this area randomizes current daily smokers to one type of graphic warning label. Participants have their eye tracking assessed during the initial exposure to the graphic warning label, and are then provided with their own brand cigarettes with the same graphic warning label applied to their packs. Smokers are monitored for the next 10 days, attending laboratory visits every 3 days, where they complete measures of recall, cigarette risk beliefs, attitudes and intentions to quit smoking (last day), while also tracking daily cigarette consumption and smoking topography to examine changes in smoking behaviors, and eye tracking assessments to examine viewing patterns. Results from this study will elicit what format features of graphic warning labels make them effective, and how viewing patterns impact effectiveness.
UPENN TCORS: Tobacco Product Messaging in a Complex Communication Environment (Visit the TCORS Website here!)
The UPenn Tobacco Center of Regulatory Science is an FDA/NIH-funded P50 center grant that is investigating tobacco-related messaging, information and misinformation, all of which is readily available through mass media, social media, user commentary, and the cigarette package itself.
Colleagues from the Annenberg School of Communication are conducting research on information and misinformation about tobacco products in traditional and emerging media and how exposure to this information alters beliefs, attitudes, intentions, and tobacco use; as well as examining the "staying power" of beliefs about tobacco products and use based on misinformation in social media and will evaluate corrective interventions. Our CIRNA-based project investigates the impact of cigarette packaging and labeling on smokers' beliefs, smoking behaviors, smoke and nicotine exposure.
The tobacco industry has long been aware that packaging, marketing and labeling can affect smokers' beliefs about cigarette brands and use behavior. Given the FDA's role in regulating cigarette labeling, and the potential for mandated use of plain cigarette packaging (tan or olive coloring) as is done in some other countries, our project examines the effects of changes in cigarette packaging color on product beliefs and tobacco use behaviors in adult regular smokers. Further, with the potential for graphic warning labels to be adopted in the future, a second goal is to understand how graphic versus text warning labels moderate the influence of packaging changes on these outcomes.
Individual Differences in Use and Harm from Low Nicotine Content Cigarettes
Reducing nicotine content of cigarettes may be a reasonable strategy to reduce the reinforcing properties of cigarette smoking; however, there are some data to suggest otherwise. Empirical evidence from controlled studies, including work by our group shows that some smokers compensate for lower nicotine yield by smoking these cigarettes more intensely or by smoking more cigarettes per day. Existing low nicotine cigarettes are elastic in design; although the nicotine yield is low during smoking machine testing, the actual nicotine content and delivery to smokers is equivalent to a regular cigarette. Low nicotine content (LNC) cigarettes have low nicotine content compared to regular cigarettes, which is a departure in design from the low nicotine yield cigarettes currently available commercially. However, two important questions remain: 1) Will individuals smoke LNC cigarettes more intensely or smoke more each day, thereby maintaining their desired nicotine levels, and as a result continue to be exposed to significant toxin levels, and 2) are there subgroups of smokers more vulnerable to these adaptive smoking behaviors with LNCs and resulting associated risks.
Our research on LNC cigarettes examines how these cigarettes are smoked when smokers switch from their current own brand of cigarettes, and the effect this product switch has on smoke exposure, such as carbon monoxide levels in breath samples, as well as nicotine levels and other biomarkers that indicate the amount of toxin exposure from use.
Individual Differences in Use and Harm from Smoking Little Filtered Cigars
Little cigars have seen a recent increase in sales and may pose a health problem. First, little cigars are significantly less expensive than cigarettes, and therefore will likely increasingly be used (and more so by low SES smokers) to obtain desired nicotine levels as cheaply as possible. When the cigar tax rates changed in 2009, several cigar-producing companies slightly increased small cigar weights up to a medium weight class in order to maintain a favorable low tax and low regulatory medium weight class. Second, the perceived risks of little cigars are generally underestimated and therefore they may be used more intensely, leading to increased exposures. Third, because nicotine delivery differs between cigarettes and little cigars (smoke pH, routes of absorption), it is plausible that inherited differences in nicotine metabolism may differentially affect smoking behaviors and toxin exposures. Low cost and largely unregulated nicotine products warrant careful scrutiny. FDA can assert jurisdiction over any tobacco product, and results from this study may provide empirical support for doing so.
Our research into little cigars focuses on characterizing what daily use of smoking patterns look like and well as examining how each little cigar is smoked. Breath, urine and blood samples are used to fully examine the impact of little cigar smoking on tobacco toxin exposure in a user. This project also examines risk perceptions about this product as well as subjective ratings of product characteristics and smoke delivery.
Selected Publications
Falcone M, Bansal-Travers M, Sanborn PM, Tang KZ, Strasser AA. Awareness of FDA-mandated cigarette packaging changes among smokers of 'light' cigarettes. Health Education Research 2015; 30(1): 81-86
Strasser AA, Ashare RL, Kaufman M, Tang KZ, Mesaros AC, Blair IA. The effect of mentholon smoking behaviors, biomarkers of exposure and subjective responses. Cancer Epidemiology Biomarkers and Prevention 2013; 22(3):382-389.
Strasser AA, Tang KZ, Romer D, Jepson C, Cappella JN. Graphic warning labels in cigarette advertisements: Recall and viewing patterns. American Journal of Preventive Medicine 2012; 43(1):41-47.
Strasser AA, Orom H, Tang KZ, Dumont RL, Cappella JN, Kozlowski LT. Graphic-enhanced information improves perceived risks of cigar smoking. Addictive Behaviors 2011; 36(8): 865-869.
Strasser AA, Benowitz NL, Pinto A, Tang KZ, Hecht SS, Carmella SG, Tyndale RF, Lerman C. Nicotine metabolite ratio predicts smoking topography and carcinogen biomarker level. Cancer Epidemiology Biomarkers and Prevention 2011; 20(2): 234-238.
Strasser AA, Tang KZ, Sanborn PM, Zhou JY, Kozlowski LT. Behavioral filter vent blocking on the first cigarette of the day predicts which smokers of light cigarettes will increase smoke exposure from blocked vents. Clinical and Experimental Psychopharmacology 2009; 176: 405-412.
Strasser AA, Tang KZ, Tuller MD, Cappella JN. PREP advertisement features affect smokers' beliefs regarding potential harm. Tobacco Control 2008; S1: 32-38.
Strasser AA, O'Connor RJ, Mooney ME, Wileyto EP. Digital image analysis of cigarette filter stains as an indicator of compensatory smoking. Cancer Epidemiology Biomarkers and Prevention 2006; 15(12): 2565-9.
Strasser AA, Malaiyandi V, Hoffmann E, Tyndale R, Lerman C. An association of CYP2A6 genotype and smoking topography. Nicotine and Tobacco Research 2007; 9(4):511-518.
Strasser AA, Lerman C, Sanborn PM, Pickworth W, Feldman E. New lower nicotine cigarettes produce compensatory smoking and increased carbon monoxide exposure. Drug and Alcohol Dependence 2007; 86(2-3): 294-300.
Strasser AA, Ashare RL, Kozlowksi LT, Pickworth WB. The effect of filter vent blocking and smoking topography on carbon monoxide levels in smokers. Pharmacology Biochemistry and Behavior 2005; 82(2): 320-329.
Press
Graphic Warning Labels: Time Magazine, Graphic Cigarette Warning Labels Stick Better in Your Memory