Biosamples & Brain Bank
Brain Bank
The University of Pennsylvania Alzheimer's Disease Core Center (ADCC) and the Center for Neurodegenerative Disease Research (CNDR) maintain tissue banks, funded by NIH (NIA, NINDS), for human brain samples obtained from patients with:
Alzheimer's disease (AD)
Parkinson's Disease (PD) and
other related neurodegenerative dementias and movement disorders
The tissue bank is a resource for qualified scientists. These tissue banks are "Core Facilities" that are part of NIH funded multi-component projects with the specific charge to support the research conducted by the project grant co-investigators. These project grant co-investigators therefore have priority for access to these samples in order to achieve the goals of their funded projects.
While the ADCC and CNDR make every effort to provide unused samples from these tissue banks to other investigators who are not part of these NIH grants, there are limitations on the types of cases acquired and banked in CNDR and the ADCC, as well as on which brain regions are available to investigators outside these NIH funded project grants. Accordingly, brain regions such as hippocampus, amygdale, brainstem, etc. – which are in high demand for use in the studies conducted by the project co-investigators in these NIH funded grants – are infrequently available to distribute to other outside investigators. Every effort is made by staff to accommodate the needs of outside investigators where possible.
There are many other sources of human brain samples for qualified researchers, including the 40+ NIH-supported brain banks in the United States, and the National Disease Research Interchange (NDRI).
To obtain biosamples, investigators must have an active IRB approval for their studies involving human tissues. This IRB approval must accompany the request form below, which must be completed and signed by the requesting principal investigator.
Download the Biosample Request Form
The form can be emailed to daviesk@upenn.edu or faxed to 215-349-5909.
If you have questions or need further assistance in completing the above form to request a biosample, please contact:
Kevin Davies
Email: daviesk@upenn.edu​
Office phone: 215-662-4474
Office fax: 215-349-5909
It is imperative that investigators conducting research on human tissues use universal precautions and be fully trained to conduct research using human biological samples that may harbor potentially infectious conditions. Any waste material should be treated as a biohazard and disposed of according to your institutional policy.
The Global Alzheimer's Association Interactive Network (GAAIN)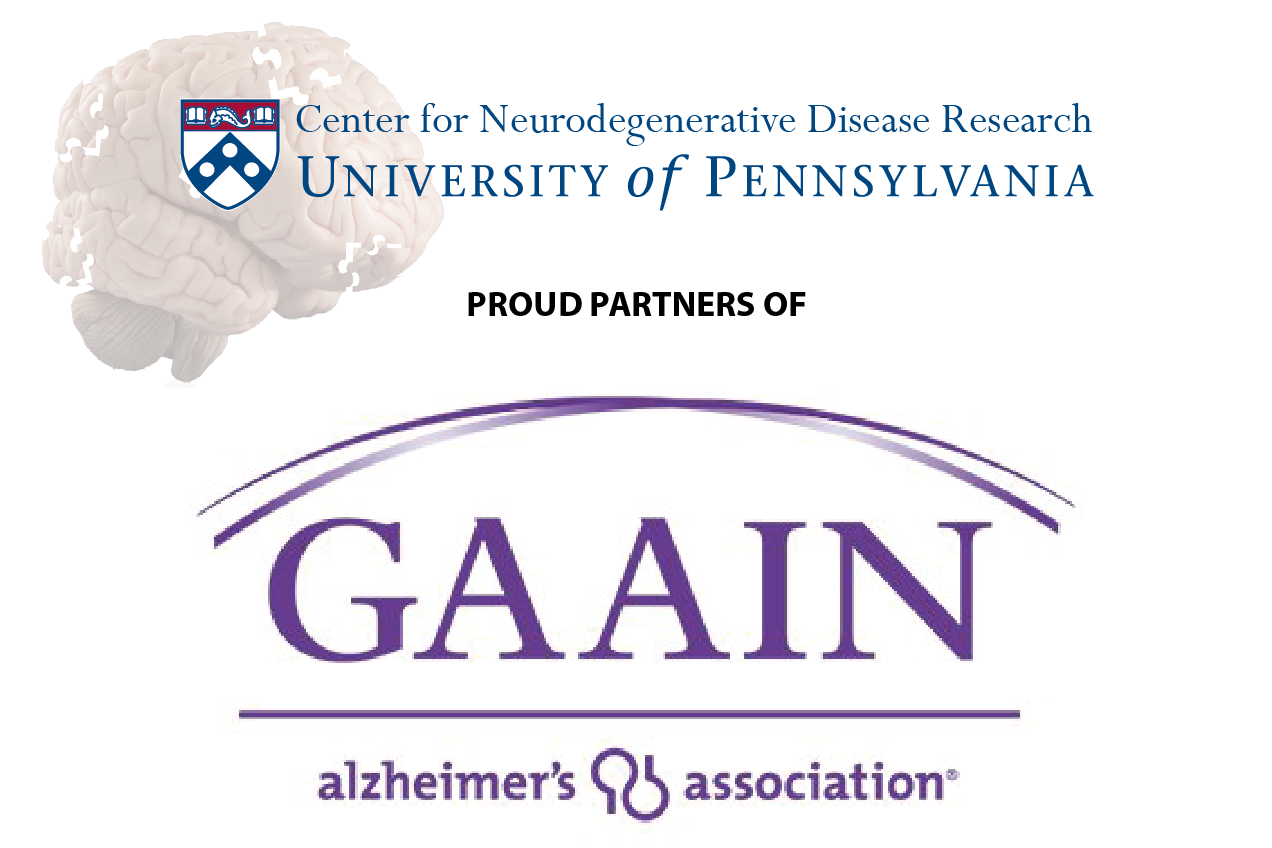 GAAIN unites a diverse and geographically distributed network of data partners within a federated data platform designed to foster cohort discovery, collaboration and sharing. GAAIN represents the first open access, federated Alzheimer's disease data discovery platform of its kind. It is funded by the Alzheimer's Association and strives to further the association's goal of accelerating the development of Alzheimer's disease preventions, treatments and a cure.
CNDR is a proud partner of GAAIN. To quickly and easily explore our data via GAAIN, visit:
GAAIN Data
© The Trustees of the University of Pennsylvania | Site best viewed in a supported browser. | Site Design: PMACS Web Team.