Cullen Lab & UNCF STEM Scholars Internship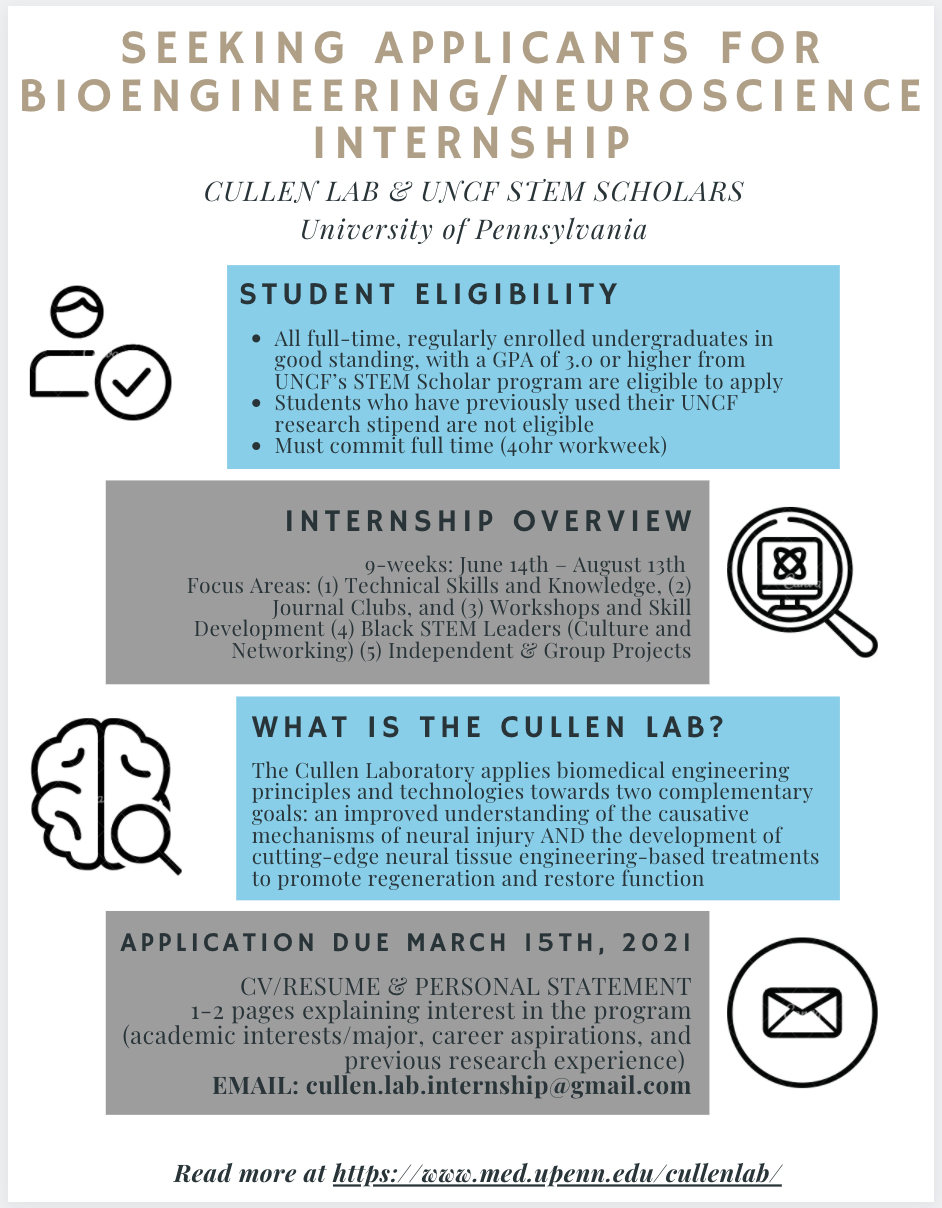 About the Cullen Lab & UNCF STEM Scholars Internship:
The Cullen Laboratory is working to develop an internship exclusively for Fund II Foundation-UNCF STEM Scholars that will be held virtually for nine weeks this summer. (We would have loved to hold this internship in-person, however, given the current state with COVID-19 that is becoming increasingly unlikely.) The internship will be research-focused but also include guest Black STEM professionals as an opportunity to gain insight into their experiences. The focus areas are: (1) Technical Skills and Knowledge, (2) Journal Clubs, (3) Workshops and Skill Development, (4) Black STEM Leaders (Culture and Networking), and (5) Independent & Group Science Projects. Given that it will be virtual we will work to create opportunities for each intern to "immerse themselves" in the lab via presentations by those currently there.
ALL STEM Scholars are eligible (regardless of major) if they meet the following requirements:
Full-time, regularly enrolled undergraduates in good standing
GPA of 3.0 or higher
Have not previously used their UNCF research stipend
Available full time from mid-June to mid-August

can commit to a 40-hour workweek
We envision that those most interested would be studying neuroscience or bioengineering as the Cullen lab focuses on the mechanisms of neural injury and the development of neural tissue engineering approaches. Potential applicants might also be interested in pursuing a Ph.D. or going into the medical field. We also imagine there might be interest from Biochemistry and Biology majors as well as those in other Engineering fields.
The application components are as follows:
CV/resume (including any relevant coursework)
One- or two-page cover letter explaining internship interest (single-spaced, Times New Roman 12pt font)

Please make sure to explicitly address the following:

Current academic interests/major
Career aspirations
Prior research experience (however, it not a requirement to apply!)
Please email application components to cullen.lab.internship@gmail.com by March 15th, 2021 @11:59PM EST.
More about the Cullen Lab:
The Cullen Laboratory applies biomedical engineering principles and technologies towards two complementary goals: (1) an improved understanding of the causative mechanisms of neural injury, (2) the development of cutting-edge neural tissue engineering-based treatments to promote regeneration and restore function. Here are some links to content about the lab to help you learn more about what we do! "Bioengineer takes big step forward in radical approach to treating neurodegeneration" (this article as short, but descriptive videos embedded within it) and "Restoring the Nervous System with Tissue Engineered 'Living Scaffolds' (D. Kacy Cullen, PhD)". (Please do not worry if you do not understand all of the science described in the links provided as part of the internship will be learning about the mechanisms discussed.)
Please feel free to email cullen.lab.internship@gmail.com with any questions or concerns!