Summer 2020 Newsletter
Kash's Corner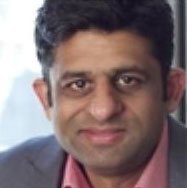 PMACS continues to monitor the Coronavirus pandemic. Our team is a critical support group to the Perelman School of Medicine's research community. We remain dedicated to supporting research needs related not only to COVID-19 but also to the initiation of phase II of research resumption.
As part of phase II, PSOM is implementing a tool developed by Information Service's Software Development Team. PennOpen Pass is a mandatory digital symptom monitoring and self-attestation tool to reduce the spread of COVID-19 at Penn. Our colleagues at HUP will honor PennOpen Pass for building entrance for University employees. If you have not yet enrolled, please click on the following link: https://pennopen.med.upenn.edu/users/sign_in.
Please refer to Dr. Epstein's recent communication below:
Additional Guidance for Phase II - Universal Masking and PennOpen Pass
07/11/20
Dear Colleagues,
As we look ahead to next week – with the Phase II gradual return to campus beginning on Monday, July 13 – I write with additional guidance on two important areas: Universal Masking Policy and PennOpen Pass.
1. Universal Masking Policy: Consistent with EHRS and the City of Philadelphia Department of Public Health guidelines and Governor Wolf's recent order on universal face coverings, we remind you that:
Except as indicated below, universal masks should be worn by everyone at all times in PSOM buildings and should cover your nose and mouth,  even when:

You are working alone in the lab area (including during an early or late shift) or are working alone in a cell culture, microscope, animal, or other procedural rooms.  In these shared spaces, extra care is necessary in the event that someone enters the room unexpectedly, or uses the room after you

You are more than six feet away from another person

No one is around

The only times your mask can be removed safely are:

If you are in a private, non-shared office or cubicle where sides extend above the head of the occupant so that potential particle or aerosol contaminants will not affect others

If you are eating or drinking while physically distanced from others

When in doubt, wear your mask
2. PennOpen Pass: Please enroll in this mandatory digital symptom monitoring and self-attestation tool by Monday, July 13
PennOpen Pass is required daily for people returning to campus at any frequency.  It is optional but strongly encouraged for people currently working 100% remote

Rationale: Daily symptom checks through PennOpen Pass is an important part of our gradual return to campus; if anyone develops symptoms of concern, this needs to be reported immediately and will help to prevent isolated cases from spreading outbreaks in our community.  As an example, if you work on campus Monday and Tuesday and develop symptoms on Thursday, we cannot afford to let several days go by (until you next return to campus Monday) to start initiating contact tracing, as people with whom you may have had contact may infect others in the meantime

Please review this FAQ, which further addresses requirements for the mandatory enrollment and guidelines for enrollment, daily usage, daily text reminders, and compliance based on frequency of being on campus

With thanks to the Penn Center for Health Care Innovation, the launch of PennOpen Pass is a critical step in the ongoing efforts to resume academic, research, and clinical activities while protecting public health at Penn.  We appreciate your participation
We continue to work closely with our colleagues at the University and Health System to respond to directives and guidelines as they evolve from a regional and national level.  Thank you to our exceptional colleagues at PSOM and the University who are working tirelessly to prepare for this next phase of our return to campus.  And thank you to our incredible community, whose resilience and support of one another underscore the strength of Penn Medicine. Jon
Jon Epstein, MD | EVD/CSO
---
Enterprise Research Applications
LIMS Team Pivots to Focus on COVID-19 Research
In early March, it appeared that Penn Medicine researchers were headed for a couple of weeks of quarantine, and the LIMS team was gearing up to focus on our pending upgrade as well as projects to import legacy data for a number of existing clients. The assumption was that these laboratories would have time to work on those projects.
Instead, after about a week, it became clear that the entire focus of the team would need to be directed towards supporting a new wave of COVID-19 studies that were collecting research samples. This resulted in 10 weeks of high intensity collaboration and effort. The team navigated short timelines and rapidly shifting requirements as new labs were on-boarded – some of which were newly formed collaborative labs staffed by volunteers.
Through these efforts, over 60 users, 10 studies, and nearly 150K samples were added to LabVantage in support of COVID-19 research. This effort also marked the beginning of support for the Penn Medicine BioBank in LabVantage as new PMBB-specific workflows were designed and implemented to aid their herculean efforts to process research samples coming at high volume from multiple sources.
Since the influx of new COVID-19 studies has slowed, the team now turns its attention to optimizing the newly developed workflows using feedback from their initial use, closing out the testing needed to qualify the upgrade to LabVantage 8.4, and restarting pre-COVID-19 projects as research resumes across Penn Medicine. We also look forward to consolidating legacy data into LabVantage and integrating with clinical systems.
Addendum from LIMS Team Manager: I'd like to express my sincere gratitude to the entire LIMS team who worked tirelessly to provide quality solutions, rapid training, and responsive support to our partner labs. I'm proud to work with such a dedicated team of individuals. I would also like to thank the many research coordinators, lab managers, and lab technicians who were onsite enabling Penn Medicine to bring its research expertise to bear on such an important problem. – Ned Haubein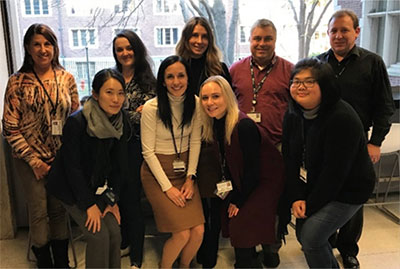 Back Row: Selene Platt, Tala Cox, Kaitlyn Phelan, Ned Haubein, Joseph Dunn
Front Row: Ize Imai, Jamie Howell, Jennifer Linnell, Linda Phan
Joined Later: Laura McLaughlin
---
Information Services Advisory Center (Isaac)
Isaac Introduces Virtual Office Hours!
The "Ask Isaac" kiosks that have been held regularly at the entities are postponed for the time being. However, the Isaac team has found another way to connect! Starting in June, you can "Ask Isaac" virtually and have your IS-related questions answered in real-time. The one-hour session will use Microsoft Teams, and you do not need an account to join. Users can stay for the whole hour, or hop on, hop off.
The first "Ask Isaac" Virtual Office hour was held on Wednesday, June 10th, and several users joined to ask questions related to PennChart and how to set up the microphone on Microsoft Teams. Some other questions you can ask:
How do I reset my PennKey, iPhone, or network account password?

What do I do if I have an issue with Knowledge Link?
How do I share patient-related files with a Penn or non-Penn user?

Is there a tipsheet?
If we are not able to answer your question during this hour, we will create a request on your behalf and get back to you.
For more information and to view the Virtual Office Hour schedule, please visit the Isaac website! Can't make a session? Submit an Isaac request by logging onto the KACE Portal or https://askisaac.pennmedicine.org/
---
Information Assurance
New Email Quarantine
Do you receive unwanted sales and marketing emails in your Inbox? Penn Medicine receives over 9 million such emails every month! Beginning in the Summer of 2020, Information Services will enable a new Email Quarantine to reduce this clutter from your mailbox. Read More
Below is a sample Email Quarantine Daily Digest.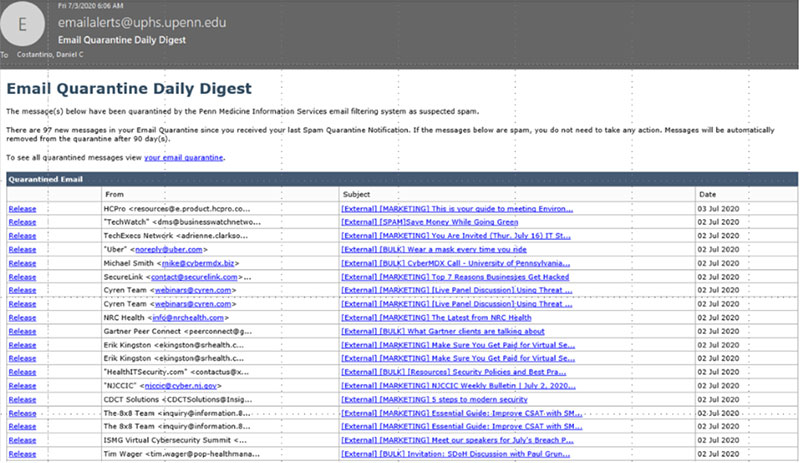 ---
Client Services Group (CSG)
Local Desktop Backup Service Migration

Crash Plan
For all users that were using PMACS Crash Plan service, local desktop back service has been migrated to ISC's iteration of Crash Plan. The University's CrashPlan service is managed and operated by ISC. Backs up are stored in the cloud. Beginning May 31, 2020 the PMACS' CrashPlan service is no longer available and all backups will be done through the University's  CrashPlan.  
Details for University CrashPlan Services:
A full initial backup of all user accounts on a CrashPlan enabled computer has been completed. 

Backups from the PMACS CrashPlan service will no longer be available. 
Each user is charged $4.50 per month for up to 4 computers. Unlimited data backup and no additional charge for each GB. 

Supported Operating Systems: 

Windows 7/10 

MacOS 10.13 or newer
If you have any questions about your Crash Plan installation, or are interested in Crash Plan services, please open a ticket at helpdesk.pmacs.upenn.edu or email MedHelp@pennmedicine.upenn.edu.
---
Looking for a past edition of the newsletter? Check our archives.