The F.M. Kirby Professorship of Ophthalmology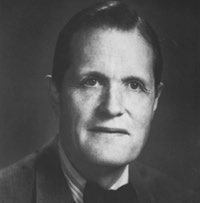 Established by the F.M. Kirby Foundation in 2006, the chair demonstrates the Foundation's commitment to medical research and builds upon the Kirby family's previous and impactful support of ophthalmic research in the Department of Ophthalmology and at the Scheie Eye Institute at Penn Medicine.
Under the leadership of F.M. Kirby, II and his son S. Dillard Kirby, the Foundation has provided significant support to young scientists and emerging areas of research. At Penn, in addition to creating new professorships, the Foundation established the F.M. Kirby Center for Molecular Ophthalmology in 1994. With the ultimate goal of preventing, treating and curing hereditary eye diseases through gene therapy, the molecular ophthalmology center is the first of its kind in the world.
Fred Morgan Kirby forever changed American retail by introducing a chain of five-and-dime stores that offered clear, fixed pricing. He became one of the founders of F.W. Woolworth Company and endowed the Foundation in 1931. Successive generations of the Kirby family have continued his tradition of giving to organizations that foster self-reliance or otherwise create strong, healthy communities both in the region and beyond.



Current Chairholder:
Jean Bennett, MD, PhD
Jean Bennett, MD, PhD, Director of the Center for Advanced Retinal and Ocular Therapeutics, has been developing gene transfer and gene therapy strategies for over three decades—focusing on eye diseases for the last 25 years. Dr. Bennett and her collaborators—including her husband, Albert M. Maguire, MD, a vitreo-retinal surgeon at Scheie Eye Institute—are credited with a breakthrough discovery that led to a remarkable reversal of blindness in inherited forms of retinal degeneration. Dr. Bennett's research is fueling human clinical trials for blinding conditions and is also impacting development of gene therapy strategies in cancer.
Dr. Bennett received her PhD from UC Berkeley and her MD from Harvard Medical School. She completed fellowships at UCSF, Johns Hopkins and Yale. She joined the Perelman School of Medicine faculty in 1992. In 2011, she received the NIH Director's Pioneer Award for the exceptional creativity and high potential impact of her work.