The George A. Weiss University Professorship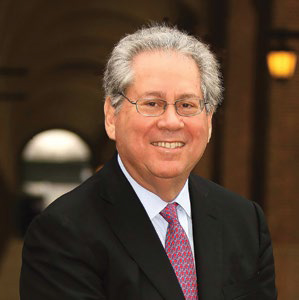 This Penn Integrates Knowledge (PIK) University Professorship was one of four created in 2010 by George A. Weiss and Lydia Bravo Weiss. Mr. Weiss is Trustee Emeritus of the University and Trustee of Penn Medicine, where he serves on the Executive Committee.
An advocate of interdisciplinary research, George A. Weiss has supported the Orphan Disease Center at Penn to bring together investigators across institutions and specializations. He is currently co-sponsoring a challenge to create Presidential Distinguished Professorships, which have a strong focus on interdisciplinary expertise, at the Perelman School of Medicine.
A Wharton graduate of the Class of 1965, Mr. Weiss is Chief Executive Officer and Chairman of Weiss Multi-Strategy Advisers LLC, a next-generation boutique investment management firm with a nearly 40-year history. The Founder of Say Yes to Education, Inc., Mr. Weiss is well-known for opening access to higher education for high-need youth. His generosity to his alma mater is unparalleled: his philanthropy and leadership have created scholarships, professorships and innovative programs and facilities that enhance many aspects of university life. He received an honorary degree from Penn in 2014.
The PIK Program was launched by President Gutmann in 2005 as a University-wide initiative to recruit exceptional faculty members whose research and teaching exemplify the integration of knowledge across disciplines and who are appointed in at least two Schools at Penn.



Current Chairholder:
Karen Glanz, PhD, MPH
Karen Glanz, PhD, MPH is the George A. Weiss University Professor of Epidemiology and Nursing. She is the founding Director of the Center for Health Behavior Research and Co-Director of the University of Pennsylvania Prevention Research Center. Dr. Glanz holds appointments in the School of Nursing and the Perelman School of Medicine. A globally influential public health scholar whose work spans psychology, epidemiology, nutrition and other disciplines, her research in community and healthcare settings focuses on obesity, nutrition and the built environment; reducing health disparities; and health communication technologies. Dr. Glanz was elected to membership in the National Academy of Medicine in 2013. She was designated a Highly Cited Author by ISIHighlyCited.com, in the top 0.5% of authors in her field over a 20-year period, and was named a Highly Cited Author and one of The World's Most Influential Scientific Minds 2015 by Thomson Reuters.