The William N. Kelley Professorship of Neurology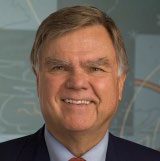 Established in 1996 by the gift of Saul P. Steinberg, the Professorship commemorates William N. Kelley, MD who served as Dean of the Perelman School of Medicine and CEO of the University of Pennsylvania Medical Center from 1989 to 2000.
Dr. Kelley was well known for his breakthrough research and leadership of academic medical programs at Duke and the University of Michigan when he arrived at Penn. During his tenure, the Perelman School became a research powerhouse: With the recruitment of top-flight faculty and construction of new laboratories, the School moved into the top five rankings for NIH funding. Dr. Kelley expanded the Medical Center's regional footprint by acquiring hospitals and private practices, including Pennsylvania Hospital and Penn Presbyterian Medical Center. He also initiated Curriculum 2000 at the School, a new approach that blended scientific and clinical learning from early on in medical education. He continues to serve on the faculty of the Perelman School. Among his many achievements, he is a member of the Academy of Medicine and has received the highest recognition of the Association of American Medical Colleges for contributions to medical education.
Wharton alumnus Saul P. Steinberg (1939–2012) was the head of Reliance Group Holdings. He made many significant gifts to Penn, endowing numerous professorships and establishing the Steinberg Conference Center. He chaired Wharton's Board of Overseers for 15 years.



Current Chairholder:
H. Branch Coslett, MD
Appointed in 2010, H. Branch Coslett, MD is a behavioral neurologist with interests in the fields of cognitive neuroscience and neuro-rehabilitation. Using a variety of methods, including theoretically motivated investigations of patients with brain disorders as well as non-invasive brain stimulation with Transcranial Magnetic Stimulation (TMS) and Transcranial Direct Current Stimulation (tDCS), Dr. Coslett explores a range of issues relating to human cognition. He investigates the performance of subjects with brain disorders such as stroke and neurodegenerative disease to identify the neural basis of language. He also studies the brain mechanisms by observing which sensory information is transformed into brain states that underlie action. Dr. Coslett's work has clear clinical implications. He and collaborators at Penn have developed treatments based in virtual reality for phantom limb pain and aphasia (speech problems). He is also exploring the promising effects of altering the perception of the size of the body on recovery from stroke.

Previous Chairholders:
| | |
| --- | --- |
| Eric C. Raps, MD 1996–1998 | Steven S. Scherer, MD, PhD 2000–2005 |