Announcements
2015 Art in Science Competition Winners
2015 Art in Science Competition Winners
We are delighted to announce the 2015 winners of our annual "Art in Science" competition. We were pleased to receive a multitude of scientifically intriguing and aesthetically striking images from the Penn research community. We have awarded three prizes: one for Postdoctoral Fellows and two for Graduate Students. It is our pleasure to share the winning images below.
The 2015 Perelman School of Medicine "Art in Science" Competition Winners
Winner: Postdoctoral Fellow Category
Rebekah Decker
Pacifici Lab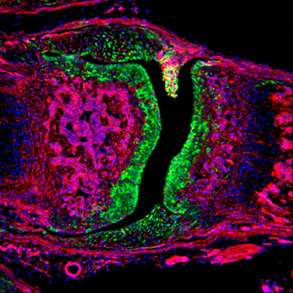 We are performing lineage tracing studies to determine the fate of a unique population of progenitor cells during synovial joint development. To perform these experiments, Gdf5Cre mice were crossed with RosamTmG mice or RosaConfetti mice. We have been able to determine that this population gives rise to cells in all mature joint tissues (green cells this image), as well as evaluate the proliferation of individual cells within these tissues.
Co-winner: Graduate Student Category
Jonathan Madara
Freedman Lab
Collaborators: Dr. Ron Harty and Dr. Gordon Ruthel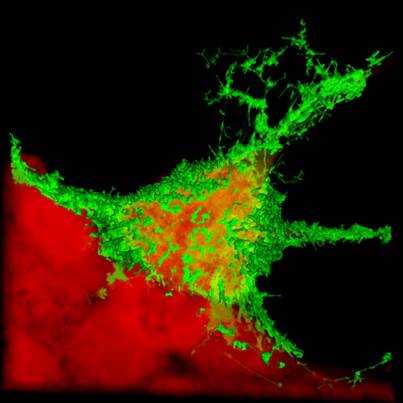 This is an image of green fluorescently tagged Ebola virus matrix protein (VP40) budding from an HEK 293T cell (the cytoplasm is counter-stained red). The matrix protein of many enveloped RNA viruses (including Ebola virus) is responsible for coordinating virion formation, and by expressing the VP40 matrix protein in culture, we can investigate mechanisms required for budding of Ebola virus.
Co-winner: Graduate Student Category
John Martin
Mauck Lab
We harvested mesenchymal stem cells from cows and grew engineered intervertebral discs. This histology section is stained for collagen and is viewed under polarized to highlight the alternating layered structure in the outer region, mimicking the natural form of the intervertebral disc. Our finding was that stem cells were viable and continuously deposited extracellular matrix in longterm culture.