Alejandra Paniagua-Avila, MD, MPH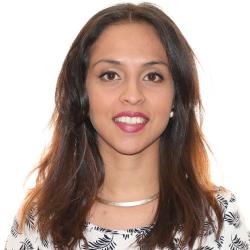 ---
More Info
International Scholar
 Adjunct Fellow | Center for Public Health Initiatives at the University of Pennsylvania
 Guatemala
  Community health | Implementation research | Non-communicable disease
Languages: Spanish (native), English (fluent)
Bio statement
Alejandra is the Research Director and an investigator at FUNSALUD, an NGO focused on providing primary healthcare, conducting public health research and building local capacity for research. Alejandra is interested in identifying determinants across the life course to prevent and manage non-communicable diseases. She is passionate about implementing culturally-appropriate and evidence-based interventions that reach the most under-served communities of Central America. Alejandra received an MPH from the University of Pennsylvania as a Fogarty International Center Trainee and a Medical Degree from Universidad Francisco Marroquin, Guatemala.
Recent global health projects
Capstone MPH project: "The Social, Emotional, Economic and Physical factors that influence type 2 Diabetes Mellitus Self-Management in a T'zutujil Community of Guatemala"Research capacity building for mid-level healthcare providers: Currently developing and piloting a program to train community nurses in clinical research, based on the WHO's Global Competency Framework for Clinical Research. This training program was developed and implemented to train the research team that is in charge of the project "Natural History and Prospective Cohort Study to Describe the Neurological, Neurodevelopmental and other Clinical Outcomes in Children after Zika Virus Infection in Rural Guatemala"

Selected publications
Olson D, Lamb M, Lopez MR, Paniagua-Avila A, Zacarias A, Samayoa-Reyes G, Cordon-Rosales C, Asturias E (2017). Rapid Active Sampling (RAS) Surveys as a Tool to Evaluate Factors Associated with Acute Gastroenteritis and Norovirus Infection among Children in Rural Guatemala. Amer J Trop Med. June 2017. doi: 10.4269/ajtmh.16-1003.
Paniagua-Avila A, Messenger E, Nelson CA, Calgua E, Barg FK, Bream KW, et al (2017). The Guatemala-Penn Partners: An Innovative Inter-Institutional Model for Scientific Capacity-Building, Healthcare Education, and Public Health. Front Public Health; April 2017. doi: 10.3389/fpubh.2017.00070.
Olson D, Lamb M, Lopez MR, Paniagua-Avila A, Zacarias A, Samayoa-Reyes G, et al (2017). A rapid epidemiological tool to measure the burden of norovirus infection and disease in resource-limited settings. Open Forum Infectious Diseases. March 2017. doi: 10.1093/ofid/ofx049.
Last Updated: 26 January 2022