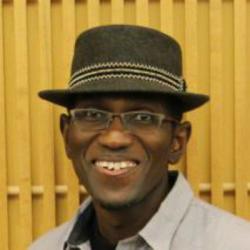 ---
More Info
Associate Scholar
 Assistant Professor of Sociology, Anthropology, and Criminal Justice | Arcadia University
 Botswana | Kenya | South Africa | Nigeria | United States
  Health and human rights | Peace and Conflict | Policy | Sustainability | Teaching
Languages: English (fluent), Kiswahili (fluent)
Bio statement
Alex Oyengo Otieno is an Assistant Professor of Sociology, Anthropology, and Criminal Justice at Arcadia University. He is interested in global health policy with a focus on health and human rights, sustainable development and peace and security. He is particularly interested in the role of international higher education in contributing to public narrative on global health challenges and the role of storytelling and dialogue on peace-building and conflict transformation with a focus on Africa. His work also draws on and contributes to sustainable social transformation, the intersection of human rights and peace pedagogy and health promotion, intercultural and international communication, embodiment, and Pan-Africanism and regional integration. Alex also serves on the board of directors of Prevention Point of Philadelphia.
Recent global health projectS
Ongoing projects focus on inclusion and resilience among immigrants and the challenges and opportunities of engaging in anti-racism and human rights advocacy in the era of populism.
Mr Otieno is the Director of the Africa Summer Immersion Program at the Lauder Institute, University of Pennsylvania.
Selected publications
Otieno, A. (2017) Pathways to Transforming "New" Conflicts in Africa, Peace Review, 29:3, 358-365, DOI: 10.1080/10402659.2017.1344540
Otieno, A. (2017) Transforming Refugee Discursive Practices, Peace Review, 29:1, 76-84, DOI: 10.1080/10402659.2017.1272311
Last Updated: 26 January 2022