Edwin Nieblas-Bedolla MPH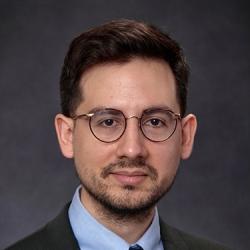 ---
More Info
Associate Scholar
 MD Candidate | University of Washington
 Guatemala | Mexico
  Epidemiology | Health Disparities | Immigrant health | Medical anthropology | Medical Education | Neurological Surgery
Languages: Spanish (native), English (fluent)
Bio statement
Edwin Nieblas-Bedolla is a medical student at the University of Washington. He is originally from Mexico. He completed undergraduate studies at the University of Arizona before pursuing graduate studies in public health at the University of Pennsylvania. He hopes to facilitate access to neurosurgical care for medically underserved communities and contribute to scientific scholarship aimed at improving overall patient care. His work has been published in several peer-reviewed journals including The Lancet, Nature Medicine, Neurosurgery, and others. His current academic interests include global neurosurgery, neuro-oncology, health disparities, and medical education.
Recent global health projects
1. Promoting international collaborations for clinical trials in neurosurgery
2. Assessing methods to increase access to neurosurgical care globally

Selected publications
Click here for full list of publications.
Last Updated: 25 February 2022