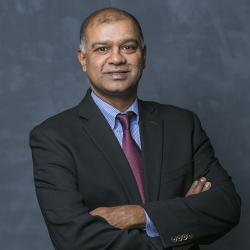 ---
More Info
International Scholar
 Provost | VinUniversity
 Vietnam | United States
  Healthcare Delivery | Patient Experience | Quality Improvement | Wellness Programs
Languages: English (fluent), Hindi (native), Vietnamese (basic)
Bio statement
Professor Rohit Verma is the Provost of VinUniversity and Dean of External Relations and Singapore Tourism Board Distinguished Professor at the Cornell SC Johnson College of Business, Cornell University. Throughout his career, Professor Verma has led several major research centers and programs, including serving as the Founding Executive Director, Cornell Institute for Healthy Futures; and Executive Director, Cornell Center for Hospitality Research. In addition to Cornell University, Professor Verma has taught at major universities around the world including University of Sydney, Norwegian School of Logistics, Korea University, Indian School of Business, University of Utah and DePaul University.
Recent global health projects
Dr. Verma is the Founding Provost and Chief Academic Officer of VinUniversity in Vietnam. VinUni partners with both Penn and Cornell to establish three college at VinUni: the College of Business and Management, the College of Engineering and Technology, and the College of Health Sciences. He is also interested in understanding the role of mobile communications technologies in healthcare delivery and the drivers of patient experience across the healthcare delivery journey.
Selected publications
Dixon, Michael; Victorino, Liana; Kwortnik, Robert; Verma, Rohit. "Surprise, Anticipation, and Sequence Effects in the Design of Experiential Services" Production and Operations Management. 26.5 (2017): 945–960
McColl-Kennedy, J.; Danaher, T.; Gallan, A.; Orsingher, C.; Lervik-Olsen, L.; Verma, Rohit. "How Do You Feel Today? Managing Patient Emotions During Health Care Experiences to Enhance Well-being" Journal of Business Research. 79 (2017): 247-259
Last Updated: 27 January 2022