Robert Suskind & Leslie Lewinter-Suskind Faculty Global Health Award, 2022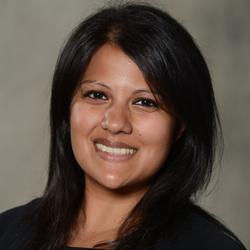 Please join us for a celebration and career reflection address by Dr. Ahmed.

Recording Now Available, See Below.
Recording
Bio
Nahreen Ahmed, MD, MPH
Dr. Nahreen Ahmed is originally from the Greater Philadelphia area. She attended Drexel University College of Medicine where she first engaged in global health advocacy as a state representative for the non-profit organization, Distressed Children International. Dr. Ahmed subsequently went on to residency at the University of Illinois in Chicago where she concomitantly completed her Master's in Public Health degree and was also invited to stay on for a Chief Residency. She completed a fellowship in Pulmonary and Critical care at NYU/Bellevue which is also where she launched her Global Health Career by founding the Bangladesh Ultrasound Initiative, a training program for critical care physicians in Dhaka, Bangladesh. This program has now successfully seen over 150 physicians trained in bedside ultrasound and has become self-sustaining.
She joined the faculty at the Hospital of the University of Pennsylvania and is currently an Assistant Professor in Clinical Medicine in the Division of Pulmonary and Critical Care as well as a Perelman School of Medicine Center for Global Health Scholar. Within one year, she helped to train the entire faculty of the division of Critical Care in Point-of-Care Ultrasound as well as co-founded the Philadelphia Area Critical Care Ultrasound Program which is the first of its kind in the area, wherein all 7 city hospitals were brought together to train all incoming Critical Care fellows in Point-of-Care Ultrasound. This training program has now been ongoing for the last two years and has trained over 100 fellows.
After the successes of the Bangladesh training program and the Philadelphia training program, she has participated in similar programs in Ethiopia with the East African Training Initiative and subsequently has worked to bring training in point-of care-ultrasound, and in acute and critical care medicine to crisis zones such as Yemen, Gaza, Syria, Sierra Leone, Rohingya Refugee Camps in Bangladesh and at the border of Columbia and Venezuela, focusing on Venezuelan migrants. In addition, she has collaborated with members of the Penn Global Emergency Medicine Program to help initiate a Certification Program in Emergency Medicine in Dhaka, Bangladesh. When the COVID-19 pandemic interrupted international travel, Dr. Ahmed pivoted to meet evolving needs in the US, focusing on virtual critical care medicine cross-training. At that time, Dr. Ahmed traveled to where she could be most useful, this time to the Navajo Nation, where her impact and leadership were recognized with the Navajo Area Director's Award for Outstanding Volunteer.
Dr. Ahmed sits on the Board of Directors for three non-profit organizations, including Bridge To Health which focuses on capacity building programming in East Africa and newly in Peru, MedGlobal which primarily works in conflict and crisis zones and Aman Lara, which was and continues to be instrumental in evacuating Afghan refugees into Canada. She has a strong belief in capacity building with the aid of technology and telecommunications and that the key to sustainability in global medicine is via need-driven medical education and a hands-on training approach to empower local clinicians.
At the time of writing, Dr. Ahmed is in Poland, creating plans to deliver care and cross-educate medical professionals for Ukrainian refugees.