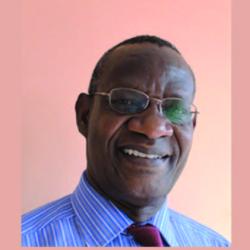 ---
More Info
International Scholar
 Professor of Biomedical Science | University of Botswana
 Angola | Botswana | Malawi | South Africa | Namibia | Tanzania, United Republic of | Zambia | Zimbabwe
  Leadership | Monitoring & Evaulation | Program management
Languages: Swahili (native), English (fluent)
Bio statement
Currently I am the Dean, Faculty of Health Sciences involved in teaching, providing service and research and the Co-Director of the Afya Bora Consortium. The curricula for training of doctors, nurses and public health specialists in sub Saharan Africa are compact and do not prepare graduates to lead large global health programs in the region. We developed the Afya Bora Consortium Fellowship to strengthen health systems in the region as a strategy to bridge the leadership gap by training health professionals in leadership skills (communication, implementation science, budgeting and human resources management, program management, monitoring and evaluation, grant writing, etc). My major interests are program management and monitoring and evaluation.
Recent global health projects
1. Afya Bora Consortium Fellowship program for training leader for global health.In its 6th year the fellowship has graduated over 120 fellows from USA, Kenya, Tanzania, Uganda, Zambia, Cameron and China. the fellowship focuses on training doctors, nurses and public health specialists to become leaders for global health. The fellowship offers nine didactic modules including leadership, Communication, health informatics, M & E, program management, health policy and implementation science. The fellows are mentored by a team in the African countries at selected attachment sites involved in HIV related service.
2. D43: Injury and Trauma Epidemiology Training Program for Botswana [In collaboration with UPenn] In its 2nd year, the mission of the injury and trauma research training program for Botswana (ITRTPB) is to produce independently functioning Batswana injury scientists and research teams. The University of Botswana (UB) and the Ministry of Health (MOH), Government of Botswana, are partnering with the University of Pennsylvania (Penn) in this endeavor. Two training program pathways are being offered. The first, Independent Investigator training, will provide opportunities for individuals interested in trauma and injury to develop expertise in the disciplines of epidemiology and public health research, broadly defined in this proposal as encompassing the skills, perspectives, and approaches of epidemiology, health services research, and biostatistics, and then apply this expertise to research in trauma and injury. The second, Associate Investigator training, will provide research methods training sufficient for individuals interested in injury to serve in collaborative or research support roles.

Selected publications
Green W, Farquhar C, Mashalla Y (2017). The Afya Bora Fellowship: An innovative program focused on creating an interprofessional network of leaders in global health. Acad Med, 2017. doi: 10:1097/ACM.
Ousman K, Polomano RC, Seloilwe ES, Odero T, Tarion E, Mashalla YJ, Voss JG et al (2016). Interprofessional fellowship training for emerging global health leaders in Africa to improve HIV prevention and care: The Afya Bora Consortium. JANAC; 27(3): 331 - 343 (2016). Doi:10.1016/janac.2016.01.009. 2015 Nov 18;13:87. doi: 10.1186/s12960-015-0087-2. PMID:26581196
Monroe-Wise A, Mashalla Y, O'Malley G, Nathanson N, Seloilwe E, Gachuno O, Nakanjako D, Urassa D et al. (2016) Training tomorrow's leaders in global health: impact of the Afya Bora Consortium Fellowship on careers of its alumni. BMC Education. 16: 241 – 249. doi: 10.1186/2909-016-0750-x.
Nakanjako D, Namagala E, Semeere A, Kigozi J, Sempa J, Ddamulira BC, Katamba A, Biraro S, Naikoba S, Mashalla Y et al (2015). Global health leadership training in resource-limited settings: a collaborative approach by academic institutions and local health care programs in Uganda. Human Resources for Health. 2015 Nov 18;13:87. doi: 10.1186/s12960-015-0087-2. PMID:26581196.
Farqhuar C, Newman LP, Mashalla Y, O'Malley G, Seloilwe E, Gachuno, O Odero, T et al. (2015). The Afya Bora Fellowship in Global Health leadership dual mentorship to strengthen the next generation of health leaders. Annals of Global Health (81G). doi: 10.1016/j.aogh.2015.02.569.
Last Updated: 27 January 2022