Lab History
In Loving Memory, Our Dear Friend and Fellow Scientist, RICHARD G. CARROLL, 1957-2010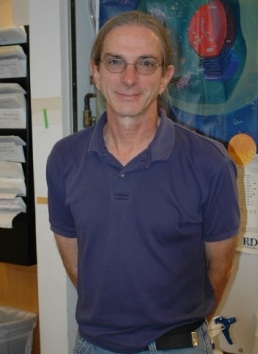 Richard G. Carroll, age 52, of Wallingford, PA died unexpectedly on September 24, 2010 of complications associated with pancreatic cancer. Richard was born on December 10, 1957 in Springfield, Massachusetts and grew up in Simsbury, CT. He received his BS in Biology with chemistry minor from the University of Notre Dame in 1980 and his Ph.D. from the University of Connecticut in 1989 in Biochemistry. Before entering graduate school he worked as a Senior Technician/Associate Chemist at the Ensign Bickford Company developing procedures for pilot production and scale-up work of new products prior to commercial production. His professional career involved research in cancer and infectious disease research. His post-graduate work at the National Cancer Institute in Fredrick MD between 1989 and 1992 focused on understanding molecular mechanisms of retrovirus infection and replication. At the Henry M. Jackson Foundation for the Advancement of Military Medicine in Maryland (1992-1999), he developed cell and gene therapy approaches to treat HIV-1 infection. His work led to the first Phase I clinical trial to treat HIV-1 infection with autologous CD4 T cells. Richard was the lead author of an article that appeared in Science in 1997 that described how the T cells remained resistant to HIV-1 infection during the T cell expansion process. Dr. Carroll joined the faculty of the University of Pennsylvania in 1999 initially in the Department of Molecular and Cellular Engineering and subsequently in the Department of Pathology and Laboratory Medicine. Here, Richard shifted focus to develop immunotherapies to treat cancer. Ironically, Richard's last project was to determine how pancreatic tumors avoided the immune system. Richard was an exceptional scientist, having authored or co-authored more than fifty research publications and was respected and admired by his colleagues. He served as both a mentor and teacher to undergraduate and graduate students, fellows and medical students and researchers. Richard was a devoted husband and father whose greatest joy was to play with his daughters. He was an accomplished, self-taught guitar player and an avid fan of The Grateful Dead and the Rolling Stones. He was also a lifelong Red Sox fan and was willing to share that enthusiasm for the Phillies. As a Notre Dame graduate he was a faithful football fan, unwilling to be disturbed on football Saturdays. His funeral Mass at St. John Chrysostom Church ended with the singing of the Notre Dame Alma Mater as the recessional hymn. Richard is buried at the SS Peter and Paul Cemetery in Springfield, Pennsylvania.
To honor his memory and continue his work, a fund has been created in his name. Contributions in his memory may be made to Trustees of the University of Pennsylvania, c/o The Richard Carroll Fund, 435 Creekside Drive, Downingtown, Pennsylvania 19335.
He will be missed and never forgotten by his family, friends and colleagues.