Micro-CT Imaging Core
Equipment
Please acknowledge the funding source of Micro-CT imaging Core:
Penn Center for Musculoskeletal Disorders (NIH/NIAMS P30 AR069619).
There are two micro-CT systems in our lab: the Scanco Medical µCT 35 and the Scanco Medical vivaCT 40. The µCT 35 is a specimen system with best resolution of 3.5 µm and the vivaCT 40 is a preclinical system with best resolution of 10.5 µm; both micro-CT systems are used to examine diverse materials such as bone samples and medical implants. Currently, the µCT 35 is used to study the trabecular bone structure of tibiae, femora, and vertebrae harvested from rats and mice, whereas the vivaCT 40 is used to scan rats in vivo under anesthesia, rat and mouse humeri, pellets, and medical devices.
Scanco Medical µCT 35

| Specifications | |
| --- | --- |
| Use | Specimen |
| X-Ray Source | 30 - 70 kVp / 20 - 50 keV (160 µA) |
| Max. Scan Size | 37.9 x 120 mm (Ø x L) |
| Max. Specimen Size* | 75.8* x 140 mm (Ø x L) |
| Best Resolution (nominal) | 1.75 µm |
| Best Resolution (10% MTF) | < 5 µm |
Scanco Medical vivaCT 40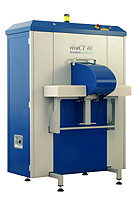 | Specifications | |
| --- | --- |
| Use | Preclinical |
| X-Ray Source | 30 - 70 kVp / 20 - 50 keV (160 µA) |
| Max. Scan Size | 38.9 x 145 mm (Ø x L) |
| Max. Specimen Size* | 80 x 500 mm (Ø x L) |
| Best Resolution (nominal) | 5 µm |
| Best Resolution (10% MTF) | < 14 µm |