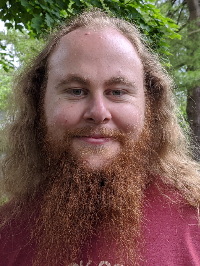 Alex Harris, Ph.D.
Department of Genetics,
University of Pennsylvania
Education:
2014 B.S. Genetics, Cell, and Developmental Biology; Biochemistry—Arizona State University, Tempe, AZ
2020 Ph.D. Molecular, Cellular, and Integrative Biosciences—The Pennsylvania State University, University Park, PA
2020-Present PennPORT fellow, Department of Genetics—University of Pennsylvania School of Medicine, Philadelphia PA
Research Mentor: Sarah Tishkoff, Ph.D.

Research Topic: I am interested in characterizing the microbiomes of diverse African populations. Understanding the microbiome is key to understanding the health of any population, and I am particularly interested in approaching this topic from a metabolic perspective. To do this, I am studying the interaction between host metabolic traits, host genome, and microbiome functions, using various approaches. My hope is to translate this work toward health interventions in global populations with African ancestry.
Teaching Interests: Introductory Biology, Introductory Biochemistry, Population Genetics
Publications:
AM Harris, M DeGiorgio (2020). A likelihood approach for uncovering selective sweep signatures from haplotype data. Molecular Biology and Evolution. https://doi.org/10.1093/molbev/msaa115.
AM Harris, M DeGiorgio (2020) Identifying and classifying shared selective sweeps from multilocus data. Genetics 215:143-171.
AM Harris, NR Garud, M DeGiorgio (2018) Detection and classification of hard and soft sweeps from unphased genotypes by multilocus genotype identity. Genetics 210:1429-1452.
AM Harris, M DeGiorgio (2017) Admixture and ancestry inference from ancient and modern samples through measures of population genetic drift. Human Biology 89:1.
AM Harris, M DeGiorgio (2017) An unbiased estimator of gene diversity with improved variance for samples containing related and inbred individuals of any ploidy. G3: Genes, Genomes, Genetics 7:671-691.
E Chiel, SE Kelly, AM Harris, M Gebiola, X Li, E Zchori-Fein, MS Hunter (2014) Characteristics, phenotype and transmission of Wolbachia in the sweet potato whitefly, Bemisia tabaci (Homoptera: Aleyrodidae), and its parasitoid Eretmocerus sp. nr. emiratus (Hymenoptera: Aphelinidae). Environmental Entomology 43: 353-362.
E-mail: alex.harris@pennmedicine.upenn.edu
© The Trustees of the University of Pennsylvania | Site best viewed in a supported browser. | Report Accessibility Issues and Get Help | Privacy Policy | Site Design: DART Web Team.