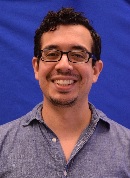 Andrew Matamoros, PhD
Department of Pathology and Laboratory Medicine,
University of Pennsylavnia
Education:
2008 B.A. Interdepartmental Biology and Psychology – University of Delaware, Newark, DE
2012 M.S. Molecular and Cellular Neuroscience – Delaware State University, Dover, DE
2018 Ph.D. Molecular and Cellular Biology and Genetics – Drexel University College of Medicine, Philadelphia, PA
2018-Present PennPORT fellow, Department of Pathology and Laboratory Medicine — Children's Hospital of Philadelphia, Philadelphia, PA
Research Mentor: Dr. Yuanquan Song, Ph.D.
Research Topic: I am using a drosophila in vivo injury model to study nerve regeneration using a two-photon and confocal microscope. I am currently exploring how a microtubule associated protein, tubulin polymerization-promoting protein, may be upregulated following injury to promote regeneration of an injured neuron's axon.
Teaching Interests: Introductory Biology, Cell Biology, Neuroscience, Development of the Nervous System, Axon Guidance, Nerve Injury and Neurodegeneration
Publications:
Matamoros AJ, Tom VJ, Wu D, Rao Y, Sharp DJ, Baas PW. Knockdown of fidgetin improves regeneration of injured axons by a microtubule-based mechanism. (Submitted - In Review)
Austin TO, Matamoros AJ, Friedman JM, Friedman AJ, Nacharaju P, Yu W, Sharp DJ, Baas PW. Nanoparticle delivery of fidgetin siRNA as a microtubule-based therapy to augment nerve regeneration. Scientific Reports. 2017 Aug;7(1):9675.
Baas PW, Rao AN, Matamoros AJ, Leo L. Stability properties of neuronal microtubules. Cytoskeleton (Hoboken). 2016 Sep;73(9):442-60.
Matamoros AJ, Baas PW. Microtubules in health and degenerative disease of the nervous system. Brain Res Bull. 2016 Sep;126(Pt 3):217-225.
Baas PW, Matamoros AJ. Inhibition of kinesin-5 improves regeneration of injured axons by a novel microtubule-based mechanism. Neural Regen Res. 2015 Jun;10(6):845-9.
E-mail: andrewjmatamoros@gmail.com
© The Trustees of the University of Pennsylvania | Site best viewed in a supported browser. | Report Accessibility Issues and Get Help | Privacy Policy | Site Design: PMACS Web Team.