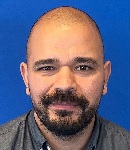 Dave Marzan, Ph.D.
Department of of Psychiatry,
University of Pennsylvania
Education:
2006 A.S. Biology – Fullerton College, Fullerton, CA
2009 B.S. Neuroscience and Physiology – University of California, La Jolla, CA
2018 Ph.D. Neuroscience and Physiology – New York University School of Medicine, New York, NY
2019-Present PennPORT fellow, Dept of Psychiatry – University of Pennsylvania School of Medicine, Philadelphia, PA
Research Mentor: Frederick "Chris" Bennett, Ph.D.
Research Topic: Microglia, resident immune cells of the brain, cause hereditary diffuse leukoencephalopathy with axonal spheroids (HDLS), a rare genetic and lethal disease. My work in the Bennett lab aims to better understand the functional consequences of HDLS mutations and to develop a microglia replacement system for the treatment of neurological disease.
Teaching Interests: Neuroscience, Anatomy and Physiology, Human Biology, Cell Biology, Introduction to Biology
Publications:
Marzan DE, West BL, Salzer JL. Activated microglia drive demyelination via CSF1R signaling. Glia. In revision February 2019.
Marzan DE, West BL, Salzer JL. Microglia are necessary for toxin-mediated demyelination and activation of microglia is sufficient to induce demyelination. BioRxiv. Posted December 2018.
Tukey DS, Ferreira JM, Antoine SO, D'amour JA, Ninan I, Cabeza de Vaca S, Incontro S, Wincott C, Horwitz JK, Hartner DT, Guarini CB, Khatri L, Goffer Y, Xu D, Titcombe RF, Khatri M, Marzan DE, Mahajan SS, Wang J, Froemke RC, Carr KD, Aoki C, Ziff EB. Sucrose injection induces rapid AMPA receptor trafficking. Journal of Neuroscience. April 2013
Lee CY, Marzan DE, Lin G, Goodison S, Silletti. α2 Integrin-Dependent Suppression of Pancreatic Adenocarcinoma Cell Invasion Involves Ectodomain Regulation of Kallikrein-Related Peptidase-5. Journal of Oncology. April 2011
Weber M, Breier M, Ko D, Thangaraj N, Marzan DE, Swerdlow NR. Evaluating the antipsychotic profile of the preferential PDE10a inhibitor, papaverine. Psychopharmacology. May 2009
Escanilla O, Yuhas C, Marzan DE, Linster C. Dopaminergic modulation of olfactory bulb processing affects odor discrimination learning in rats. Behavioral Neuroscience. August 2009
E-mail: dave.marzan@pennmedicine.upenn.edu
© The Trustees of the University of Pennsylvania | Site best viewed in a supported browser. | Report Accessibility Issues and Get Help | Privacy Policy | Site Design: DART Web Team.