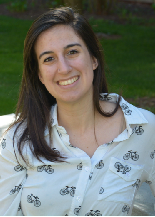 Erica Gorenberg, Ph.D.
Department: Biochemistry and Biophysics,
University of Pennsylvania
Education:
2015 B.S. in Biology — Ursinus College, Collegeville, PA
2020 Ph.D. in Neuroscience — Yale University, New Haven, CT
2020-Present PennPORT fellow, Department of Biochemistry & Biophysics — University of Pennsylvania School of Medicine, Philadelphia, PA
Research Mentor: James Shorter, Ph.D.

Research Topic: Identification of factors affecting yeast disaggregase and chaperone protein function.
Teaching Interests: Cell biology, Neurobiology, Biology for non-science majors
Publications:
Gorenberg, E.L., Zhao, H.R., Bishai, J., Chou, V., Wirak, G.S., Lam. T.T., Chandra, S.S. Identification of palmitoyl protein thioesterase 1 substrates defines roles for synaptic depalmitoylation. BioRxiv Preprint.
Taguchi, Y. V., Gorenberg, E.L., Nagy, M., Thrasher, D., Fenton, W.A., Volpicelli-Daley, L., Horwich, A.L., Chandra, S.S. Hsp110 Mitigates α-Synuclein Pathology In Vivo. Proceedings of the National Academy of Sciences. November, 2019.
Gorenberg, E.L., Chandra, S.S. The Function of Co-Chaperones in Synaptic Proteostasis and Neurodegenerative Disease. Frontiers in Neuroscience. May 19, 2017.
E-mail: erica.gorenberg@pennmedicine.upenn.edu
© The Trustees of the University of Pennsylvania | Site best viewed in a supported browser. | Report Accessibility Issues and Get Help | Privacy Policy | Site Design: DART Web Team.