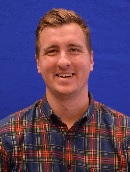 John Drazan, Ph.D.
Department of Orthopedic Research,
University of Pennsylvania
Education:
2012 B.A. Physics– SUNY Geneseo, Geneseo, NY
2017 Ph.D. Biomedical Engineering –Rennselaer Polytechnic Institute, Troy, NY
2018-Present PennPORT fellow, Department of Orthopedic Research - University of Pennsylvania School of Medicine, Philadelphia, PA
Research Mentor: Josh Baxter, Ph.D.
Research Topic: The development of mobile, low-cost biomechanics equipment to study the development of musculoskeletal pathology in active youth and adult sport players within the community.
Teaching Interests: Biomechanics, Engineering Dynamics, General Biology, Physiology
Publications:
Drazan JF, Abdoun OT, Wassick MT, Dahle R, Beardslee L, Marcus GA, Cady NC, Ledet EH, Simple implantable wireless sensor platform to measure pressure and force, Medical Engineering & Physics, 2018.
Eglash R, Bennet A, Drazan JF, Lachney M, Babbit W, A MATHEMATICAL TOOL KIT FOR GENERATIVE JUSTICE, ETD- Educação Temática Digital, 2017.
Drazan JF, Horne B, Loya A, Eglash, R. From Sports to Science: Using Basketball Analytics to Broaden the Appeal of Math and Science Among Youth. MIT-Sloan Sports Analytics Conference, 2017.
Dion MK, Drazan JF, Giddings S, Cady NC, Dahle R, Roberts JT, Ledet EH. Smart Orthopaedic Implants: Application in Total Knee Arthroplasty. American Journal of Engineering and Applied Sciences, December 2016.
Drazan JF, Cooke L, Eglash R. "Harmonious Integration: Tuning STEM Education with Generative Justice". In Integrated STEM Education Conference (ISEC), 2016 IEEE (pp. 1–8).
Drazan, John F., Aleksandra Gunko, Matthew Dion, Omar Abdoun, Nathaniel C. Cady, Kenneth A. Connor, and Eric H. Ledet. "Archimedean spiral pairs with no electrical connections as a passive wireless implantable sensor." Journal of biomedical technology and research 1, no. 1 (2014).
Wachs, Rebecca A., David Ellstein, John F Drazan, Colleen P. Healey, Richard L. Uhl, Kenneth A. Connor, and Eric H. Ledet. "Elementary implantable force sensor: for smart orthopaedic implants." Advances in biosensors and bioelectronics 2, no. 4 (2013).
E-mail: john.drazan2@pennmedicine.upenn.edu
© The Trustees of the University of Pennsylvania | Site best viewed in a supported browser. | Report Accessibility Issues and Get Help | Privacy Policy | Site Design: DART Web Team.