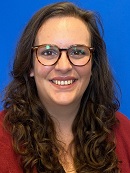 Kathryn Hacker, Ph.D.
Department of Biostatistics, Epidemiology, and Informatics,
University of Pennsylvania
Education:
2010 B.S Ecology and Evolutionary Biology – University of Arizona, Tucson, AZ
2013 M.A. Public Health – Yale University, New Haven, CT
2016 Ph.D. Public Health – Yale University, New Haven, CT
2019-Present PennPORT fellow, Department of Biostatistics, Epidemiology, and Informatics – University of Pennsylvania School of Medicine, Philadelphia PA
Research Mentor: Dr. Michael Levy, Ph.D.
Research Topic: I am investigating the efficacy of public policy interventions and surveillance practices for controlling arthropod populations of public health significance in complex urban environments. In Peru, I am investigating how to optimize surveillance and control practices for Triatoma infestans, the most important vector for Trypanosoma cruzi, which causes Chagas disease. In New York City, I am evaluating the efficacy of two policy initiatives aimed at reducing bed bug infestation.
Teaching Interests: Biostatistics, Epidemiology, Geography, Ecology, Ecology of Infectious Disease, Urban and Environmental Health
Publications:
Hacker KP, Sacramento GA, Nery NJ, Lindow JC, Reis MG, and Ko IA. Influence of rainfall on Leptospira infection and disease in a tropical urban setting. In Review. Emerging Infections.
Shannon Sked, Changlu Wang, Michael Levy, and Kathryn Hacker. A case study of Cimex lectularius (Hemiptera: Cimicidae) infestations in an office environment, 2019 Pest Management Science.
Schneider AG, Casanovas-Massana A, Hacker KP, Wunder EA Jr, Begon M, Reis MG, Childs JE, Costa F, Lindow JC, Ko AI. Quantification of pathogenic Leptospira in the soils of a Brazilian urban slum. PLoS Negl Trop Dis. 2018.
Hacker KP, Minter A, Childs J, Begon M, Diggle P, Ko AI, Costa F. A Comparative Assessment of Track Plates to Quantify Fine Scale Variations in the Relative Abundance of Norway Rats in Urban Slums, 2016 Urban Ecosystems.
Hacker KP, Seto KC, Costa F, Corburn J, Reis MG, Ko AI, Diuk­Wasser MA. Urban Slum Structure: Integrating Socioeconomic and Land Cover Data to Model Slum Evolution in Salvador, Brazil. International Journal of Health Geographics 2013;12:45. PMID: 24138776.
E-mail: kathryn.hacker@pennmedicine.upenn.edu
© The Trustees of the University of Pennsylvania | Site best viewed in a supported browser. | Report Accessibility Issues and Get Help | Privacy Policy | Site Design: DART Web Team.