Kristian Saied-Santiago, PhD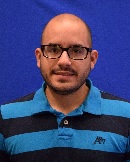 Kristian Saied-Santiago, PhD
Department of Cell and Developmental Biology,
University of Pennsylvania
Education:
2012 B.S. Molecular and Cellular Biology – University of Puerto Rico, Rio Piedras Campus, San Juan, PR
2018 Ph.D. Biomedical Sciences (Genetics) – Albert Einstein College of Medicine — Yeshiva University, New York, NY
2018-Present PennPORT fellow, Department of Cell and Developmental Biology — University of Pennsylvania, Philadelphia, PA
Research Mentor: Michael Granato, Ph.D.
Research Topic: Identifying molecular pathways required for optic nerve regeneration in vivo.
Teaching Interests: Molecular Genetics, Developmental Biology, Developmental Neuroscience
Publications:
Saied-Santiago K, Bülow HE. Diverse roles for glycosaminoglycans in neural patterning. Dev Dyn. 2018 Jan; 247(1):54-74.
Saied-Santiago K, Townley RA, Attonito JD, da Cunha DS, Diaz-Balzac CA, Tecle E, Bülow HE. Coordination of Heparan Sulfate Proteoglycans with Wnt Signaling To Control Cellular Migrations and Positioning in Caenorhabditis elegans. Genetics. 2017 Jun 2. pii: genetics.116.198739.
Attreed M, Saied-Santiago K, Bülow HE. Conservation of anatomically restricted glycosaminoglycan structures in divergent nematode species. Glycobiology. 2016 Aug;26(8):862-870.
Castro-Pérez E, Soto-Soto E, Pérez-Carambot M, Dionisio-Santos D, Saied-Santiago K, Ortiz-Zuazaga HG, Peña de Ortiz S. Identification and Characterization of the V(D)J Recombination Activating Gene 1 in Long-Term Memory of Context Fear Conditioning. Neural Plast. 2016;2016:1752176.
E-mail: kristian.saied@live.com
© The Trustees of the University of Pennsylvania | Site best viewed in a supported browser. | Report Accessibility Issues and Get Help | Privacy Policy | Site Design: PMACS Web Team.