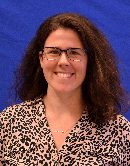 Lyndsay Avery, Ph.D.
Department of Pathology,
University of Pennsylvania
Education:
2011 B.S. Biology – Utica College, Utica, NY
2018 Ph.D. Infectious Diseases & Microbiology –University of Pittsburgh, Pittsburgh, PA
2018-Present PennPORT fellow, Department of Pathology – University of Pennsylvania School of Medicine, Philadelphia, PA
Research Mentor: Janis Burkhardt, Ph.D.
Research Topic: Understanding the effects of mutated moesin protein on the function of the immune system. Patients with mutations in moesin present with severe combined immunodeficiency. We have re-created these mutations using CRISPR in mice and will study how this affects the immune response.
Teaching Interests: General Biology, Molecular Biology, Microbiology, Immunology, Cell Biology
Publications:
Avery, L., Filderman, J., Szymczak-Workman, AL, Kane, LP. (2018). Tim-3 co-stimulation promotes development of short-term effector T cells, restricts memory precursors and is dispensable for T cell exhaustion. Proceedings of the National Academy of Sciences (PNAS). March 2018, 115 (10) 2455-2460.
Tilstra, J., Avery, L., Menk, A., Gordon, R., Smita, S., Kane, L., Chikina, M., Delgoffe, G., Shlomchik, MJ. (2018). Kidney Infiltrating T cells in Murine Lupus Nephritis are Metabolically and Functionally Exhausted. Journal of Clinical Investigation. August 21, 2018.
Phong, B., Avery L., Menk, AV., Delgoffe GM., Kane, LP. (2017). Cutting Edge: Murine Mast Cells Rapidly Modulate Metabolic Pathways Essential for Distinct Effector Functions. Journal of Immunology. 2017 Jan 15;198(2):640-644.
Jing Li, Gulidanna Shayan, Lyndsay Avery, Hyun-Bae Jie, Neil Gildener-Leapman, Nicole Schmitt, Binfeng Lu, Lawrence P. Kane and Robert L. Ferris. (2016). Tumor-infiltrating Tim-3+ T cells proliferate avidly except when PD-1 is co-expressed: evidence for intracellular cross talk. Oncoimmunology. 2016 Sep 22;5(10).
Phong, B.L., Avery, L., Gorman, J.V., Colgan, J.D., Kane, L.P. (2015). Tim-3 enhances FceRI-proximal signaling to promote mast cell cytokine production. The Journal of Experimental Medicine, 212(13), 2289-304.
Slight, S. R., Monin, L., Gopal, R., Avery, L., Davis, M., Cleveland, H., Oury, TD., Rangel-Moreno, J., Khader, S. A. (2013). IL-10 Restrains IL-17 to Limit Lung Pathology Characteristics following Pulmonary Infection with Francisella tularensis Live Vaccine Strain. The American journal of pathology, 183(5), 1397-1404.
E-mail: averyl@email.chop.edu
© The Trustees of the University of Pennsylvania | Site best viewed in a supported browser. | Report Accessibility Issues and Get Help | Privacy Policy | Site Design: PMACS Web Team.