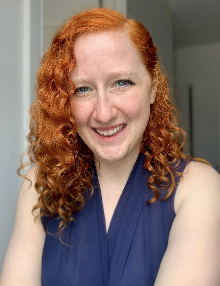 Rebecca Clements, Ph.D.
Department of Microbiology,
University of Pennsylvania
Education:
2016 B.S. in Molecular Biology – University of Pittsburgh, Pittsburgh PA
2016 B.A. in Religious Studies – University of Pittsburgh, Pittsburgh PA
2020 Ph.D. in Biological and Biomedical Sciences – Harvard University, Cambridge, MA
2021-Present PennPORT fellow, Department of Microbiology — University of Pennsylvania School of Medicine, Philadelphia, PA
Research Mentor: Kellie Jurado, Ph.D.

Research Topic: My research focuses on understanding complex immune responses to pathogens at the maternal-fetal interface.
Teaching Interests: Genetics, Cell Biology, Molecular Biology, Microbiology, Parasitology, General Biology
Publications:
Clements RL, Du, EW, McGee, JP, Streva V, Dvorin JD. A novel basal complex protein is essential for the maturation of transmission-stage malaria parasites. (In revision).
Clements RL and Jurado KA. ZIKV actively induces calcification in fetal brain. Nature Microbiology. March 2021. (News and Views article)
Clements RL, Streva V, Dumoulin P, Huang W, Owens E, Raj DK, Burleigh B, Llinás M, Winzeler EA, Dvorin JD. A Novel Antiparasitic Compound Kills Ring-Stage Plasmodium falciparum and Retains Activity Against Artemisinin-Resistant Parasites. Journal of Infectious Diseases. Oct 2019.
Ling AV, Gearing ME, Semova I, Shin DJ, Clements R, Lai ZW, Biddinger SB. FoxO1 Is Required for Most of the Metabolic and Hormonal Perturbations Produced by Hepatic Insulin Receptor Deletion in Male Mice. Endocrinology. 2018 Mar 01; 159(3):1253-1263
E-mail: Rebecca.clements@pennmedicine.upenn.edu
© The Trustees of the University of Pennsylvania | Site best viewed in a supported browser. | Report Accessibility Issues and Get Help | Privacy Policy | Site Design: DART Web Team.