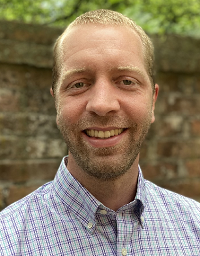 Steven Foltz, Ph.D.
Department of Systems Pharmacology and Translational Therapeutics,
University of Pennsylvania
Education:
2010 B.S. Mathematics — Presbyterian College, Clinton, SC
2013 M.S. Biostatistics — University of Washington, Seattle, WA
2020 Ph.D. Biology and Biomedical Sciences — Washington University in St. Louis, St. Louis, MO
2020-Present PennPORT fellow, Department of Pharmacology — University of Pennsylvania School of Medicine, Philadelphia, PA
Research Mentor: Elizabeth Heller, Ph.D.

Research Topic: Pediatric cancer genomics and metadata prediction from publicly-available gene expression compendia.
Teaching Interests: Genomics, data science, data visualization
Publications:
Foltz, S. M. et al. Evolution and structure of clinically relevant gene fusions in multiple myeloma. Nat. Commun. 11, 2666 (2020).
*Gao, Q., *Liang W. W., *Foltz, S. M. et al. Driver Fusions and Their Implications in the Development and Treatment of Human Cancers. Cell Rep. 23, 227-238.e3 (2018).
Foltz, S. M. et al. MIRMMR: Binary classification of microsatellite instability using methylation and mutations. Bioinformatics 33, 3799–3801 (2017).
E-mail: steven.foltz@pennmedicine.upenn.edu
© The Trustees of the University of Pennsylvania | Site best viewed in a supported browser. | Report Accessibility Issues and Get Help | Privacy Policy | Site Design: PMACS Web Team.