Guide: How To Download Recordings from BlueJeans
In preparation for the transition off of BlueJeans Meetings, the following guide has been provided to assist with the process of downloading and storing your recordings that are stored on the BlueJeans service prior to accounts being disabled. Please follow the instructions below for any recordings that you wish to maintain once the service has been deactivated.
Downloading Recordings
1. Access the BlueJeans portal in your web browser by navigating to either:
a. meeting.upenn.edu
--or--
b. upenn.bluejeans.com
2. From this page, select the Login button to authenticate with your PennKey.
.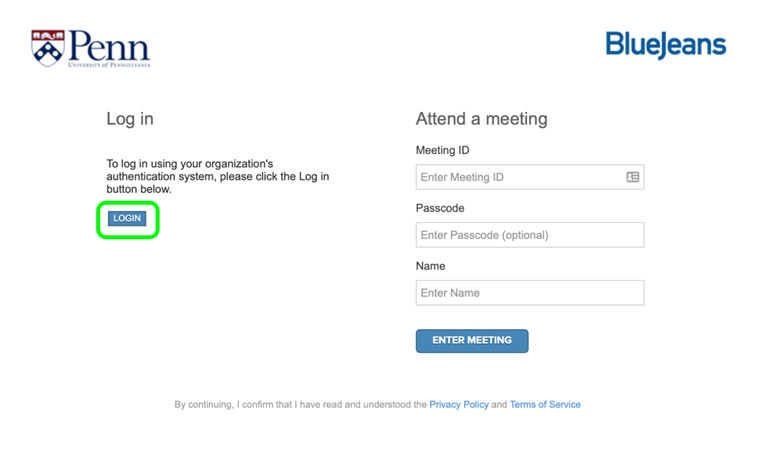 3. Once logged in, select "RECORDINGS" from the menu bar at the top of the page.

4. Once on the Recordings page, click on the recording that you would like to download to open up the recording's view page.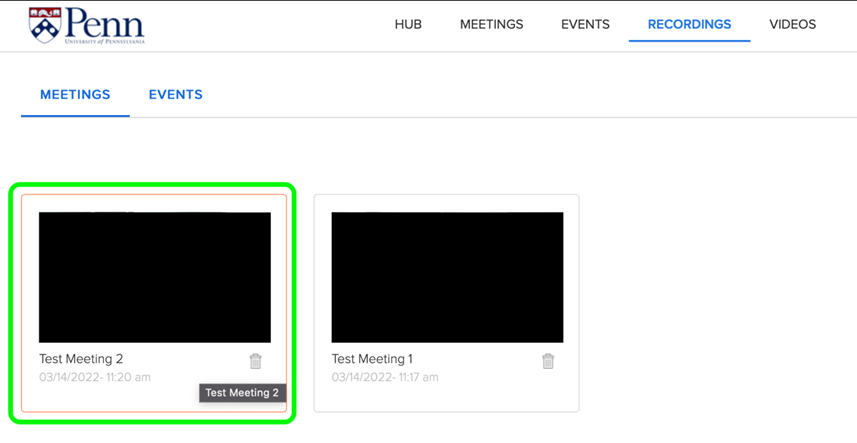 5. From this page, click on the Download icon found along the right side under the video.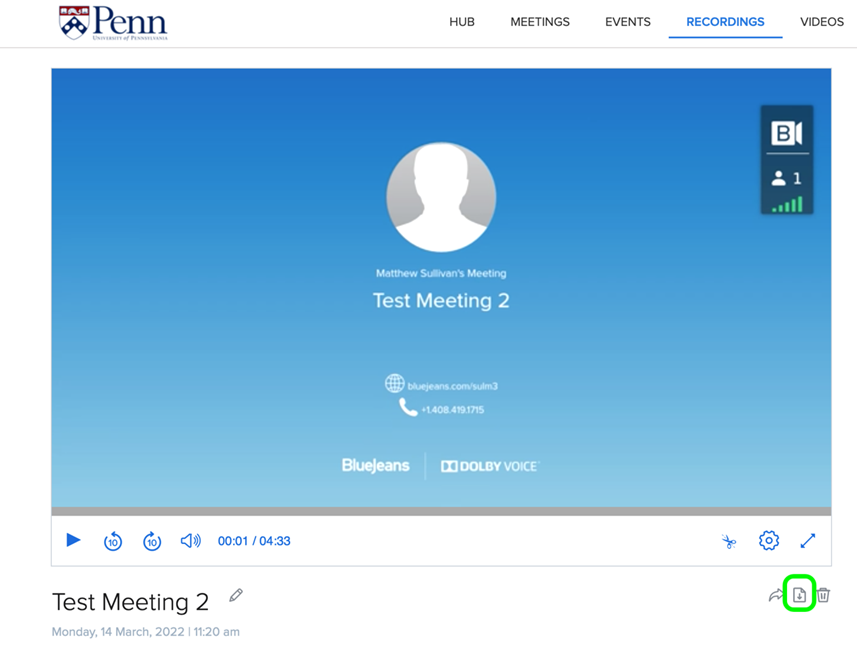 6. Select to download either Audio & Video or Audio Only.

7. This will download your recording locally to your computer.
Storing Recordings
The above method will download your recordings directly to your computer, but in most cases it is recommended they be stored in a cloud storage solution rather than locally for both ease of access and security purposes. Which specific solution you use may vary depending on availability and the type of information included in your recordings. Below you will find some recommendations to help guide you.
I have recordings used for classroom or academic purposes.

These recordings can be uploaded to Panopto, which is integrated into Canvas.

For more information about using Panopto, please visit the Panopto Information Guide.

I have recordings that include HIPAA protected research data.

Penn Medicine O365 users can store HIPAA data in OneDrive or Sharepoint. Note: recordings can only be shared with other Penn Medicine O365 users.

Penn Medicine users with access to PMACS or UPHS file shares can store HIPAA data on approved file shares. Note: recordings can only be shared with other Penn Medicine O365 users.

PSOM faculty, staff, and students can store data on Penn+Box, as long as the data is within storage limits. Note: recordings stored on Penn+Box can be shared with other users. Penn+Box users should carefully review what permissions they assign to external users when sharing HIPAA data.

Always speak with your local IT support provider before making decisions about handling HIPAA data, as there may be additional considerations or concerns.

I have general recordings of meetings that do not match either of the above use-cases.

General storage of recordings can be managed using Penn Medicine or Penn O365's OneDrive or SharePoint solutions, PMACS or UPHS file shares, or Penn+Box.