Philadelphia
Philadelphia combines historic alleyways full of the hidden treasures of a small town with the panorama, diversity, and energy of a large city. From the ethnic flare of the Italian Market to the panache of Delaware Avenues club scene, Philadelphia truly has something for everyone.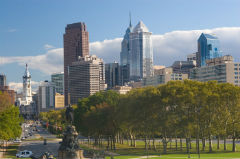 The city's history travels from Independence Hall with its cobblestone streets to Pine Street with its many fine antique shops. The quaint town of New Hope, with its romantic bed and breakfasts, as well as the Brandywine Valley, Longwood Gardens, and even local wineries, are just a stones throw from the bustle of Center City. And the beautiful seashores of New Jersey, including Victorian Cape May, are an easy day trip, as are New York, Baltimore, and the Amish farming communities of Lancaster County.
Culturally, Philadelphia is home to many fine artist and musicians and houses a world-class art museum, The Philadelphia Museum of Art. Philadelphian's tastes in music range from open air concerts at the Mann Music Center and rock concerts at the Wachovia Center to the Philadelphia Orchestra, Ballet, Opera performances at the Academy of Music. Jazz and folk festivals at the Penns Landing waterfront provide fun and relaxation on many summer afternoons.
Philadelphians love for their pro sports teams is unmatched, except, perhaps, by their love of exercise. Throughout the year, runners, bikers, rollerbladers, crew teams, and even dog walkers, enjoy Philadelphia's Fairmount Park, with its tree-lined paths stretching from the Art Museum into the western suburbs. The surrounding state parks and an arboretum offer refuge and opportunity to hikers, camper, and fishermen, while those who like to ski or swim travel north to the Poconos or east to the Delaware and New Jersey shores.
Philadelphia is recognized nationally for its outstanding restaurants. French cuisine, as well as Thai, Ethiopian, Indian, Greek, Japanese, Chinese, Mexican, Spanish, and Italian eating houses can be found within everybody's price range.
Additional off-site information about Philadelphia may be found at visitphilly.com.
Neighborhoods and Cost of Living
Philadelphia Area Communities
Many residents live in beautiful Victorian University City, Center City, or in the Art Museum vicinity, which is a five-minute drive or 15-minute walk or bike ride to the Penn campus. Other residents choose to live in Manayunk or Mount Airy, where renting a small home with a backyard is readily affordable. Still others live in Narberth, on Philadelphia's Main Line, or in nearby Delaware County communities, where campus is little more than a 20-minute drive or a 15-minute train ride away.
Additional off-site information about Philadelphia may be found at: http://www.visitphilly.com/
Close
Cost of Living
The cost of living in the greater Philadelphia area is lower than most major metropolitan areas including Los Angeles, San Francisco, New York, Washington, DC, and Boston.
Philadelphia remains one of the most affordable metropolitan areas in the country, and many residents are able to purchase a home in the area while they complete their training.
Close
Back to Top