Research
CPR Training for Families
CPR Education for Families of Cardiac Patients before Hospital Discharge
Approximately 80% of all out-of-hospital cardiac arrest occur in the home environment, therefore, CPR training is important for family members and friends of those at risk for cardiac arrest. The goal of this PCORI funded, multicenter, pragmatic clinical trial is to use the hospital as a unique "point of capture" to empower at-risk families with the skills of CPR. We offer CPR training on the cardiology and telemetry wards of four University of Pennsylvania Health System hospitals (Hospital of the University of Pennsylvania, Pennsylvania Hospital, Penn Presbyterian Medical Center, and Chester County Hospital) and four other hospitals in the Philadelphia area, with the goal of developing a sustainable CPR training model by utilizing resources within the hospital. We seek to compare two strategies for patient/family education in CPR before hospital discharge, a VSI kit (video self-instruction kit) with inflatable manikin and a mobile app with an embedded AHA hands-only CPR training video, offered in both English and Spanish.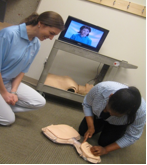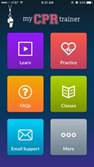 Study Contacts: Benjamin S. Abella, MD, MPhil and Audrey L. Blewer, MPH
Click here for project overview presentation
Click here to access the monthly progress report
---
Volunteer opportunity:
As part of this study, we engage a number of student volunteers interested in academic medical research and/or public health. Volunteers are trained by the study team to identify, screen, and enroll subjects into our study. Duties include obtaining informed consent, facilitating hands-only CPR training at the time of enrollment, and data collection. Students will work on the telemetry units at the UPHS hospitals and will be asked to commit to one 2-hour shift per week for a minimum of 1 academic semester.
If you would like to volunteer with us, please use the link below to complete our brief volunteer application form. In the application, you will need to attach your resume and a cover letter stating your interest in this program. After we have reviewed your application, a member of the study team will contact you with next steps.
CPR Training Study Volunteer Application Link
Please send any questions you have to CPRTrainingTeam@uphs.upenn.edu
---
Related Publications: