REGIONAL MEETING

Mid-Atlantic SACNAS Regional Meeting 2019
"Uniting Diverse Communities through STEM"
Date: Monday, June 10th, 2019
Time: 8:30 am — 6:00 pm
Biomedical Research Building
421 Curie Boulevard
Philadelphia, PA 19104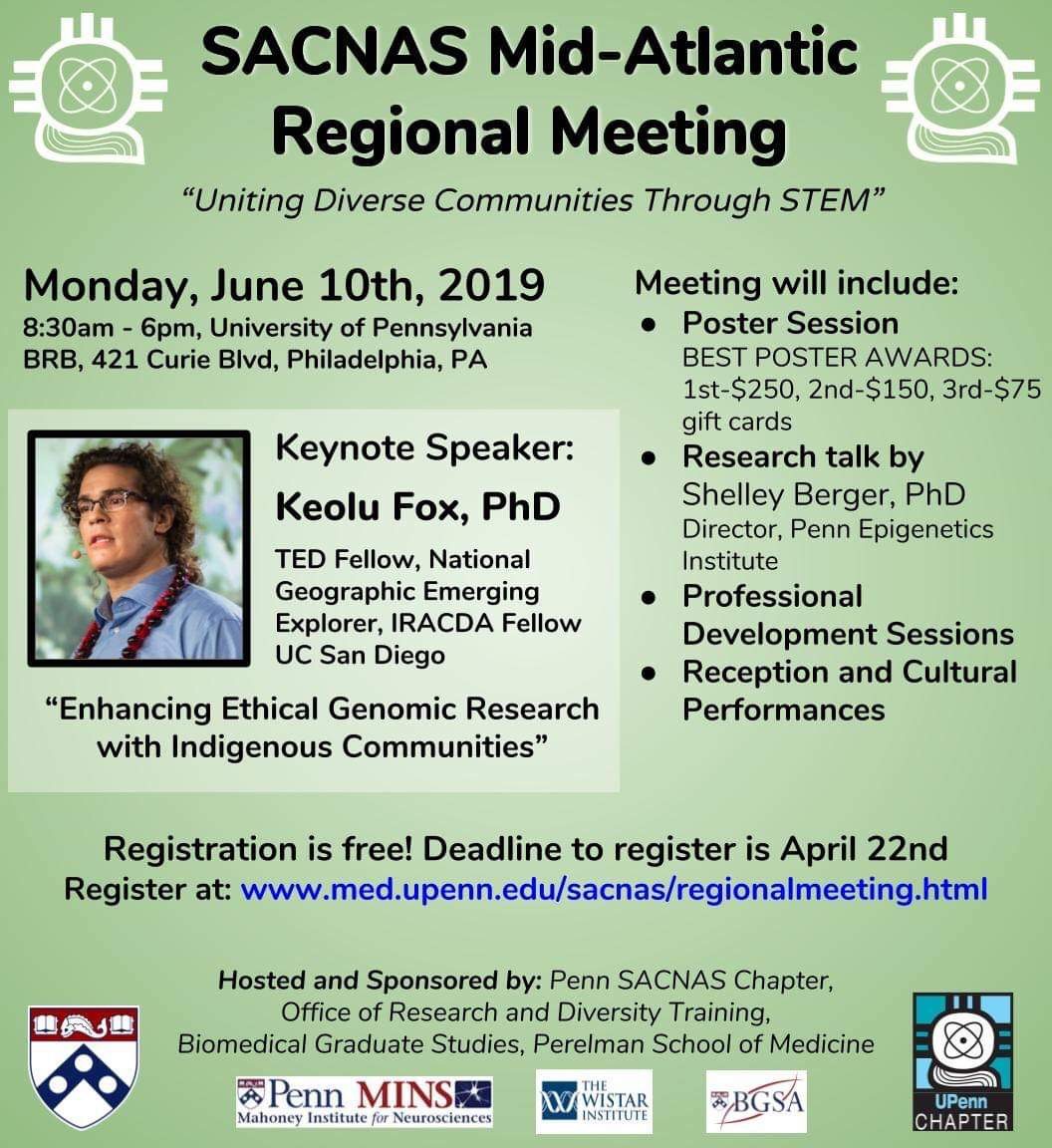 If traveling to the Regional Meeting from outside of Philadelphia, please refer to these links for information about directions and parking options. Posters will be set-up from 8:30 - 9:30 am during the Registration period in the BRB lobby. We will have push pins available to attach your poster to the board. The dimensions limit for your poster will be 36" x 48". The presenter must be at their poster during the Poster Session at 1:00 pm to present it to the judges. The poster must be on display the entire day and removed by the presenters before 6:00 pm at the end of the Reception. Posters left in the premises after the end of the Regional Meeting will be discarded.
Tentative agenda:
8:30 am: Breakfast, Registration, and Poster Set-up
9:30 am: Welcoming Remarks
9:45 am: Native American Blessing
10:00 am: Keynote Lecture by Shelley Berger, PhD
10:40 am: Professional Development Session — Career Panel
12:00 pm: Networking Lunch
1:00 pm: Poster Session
2:40 pm: Professional Development Session — Science Communication
3:45 pm: Keynote Speech by Keolu Fox, PhD
4:45 pm: Poster Awards Announcement
5:00 pm: Reception