Aristeidis (Aris) Sotiras, Ph.D.
---
Research Associate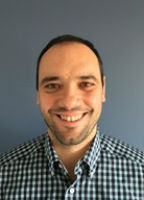 Section of Biomedical Image Analysis
Center for Biomedical Image Computing & Analytics
Department of Radiology
Perelman School of Medicine
University of Pennsylvania
Richards Medical Research Laboratories, Floor 7
3700 Hamilton Walk
Philadelphia, PA 19104
fax: (001) 215.573.1811
email: Aristeidis.Sotiras@uphs.upenn.edu
Personal webpage
Education
Ph.D. (with highest distinction and compliments of the jury) in Applied Mathematics - Ecole Centrale Paris (Paris, FR)
M.Sc. (with distinction) in Mathematics, Vision and Machine Learning - Ecole Polytechnique (Paris, FR)
B.Sc. in Electrical and Computer Engineering - National Technical University of Athens (Athens, GR)
Research Summary
My research interests are in the field of medical image computing. I am particularly interested in the developing and applying machine learning and pattern analysis methods to large-scale neuroimaging data, towards improving clinical routine, such as computer-aided diagnosis and personalized treatment.
Publications
Sotiras, A., Toledo, J. B., Gur, R. C., Gur, R. E., Satterthwaite, T. D., & Davatzikos, C. (2017). Patterns of coordinated cortical remodeling during adolescence: associations with functional specialization and evolutionary expansion. Proceeding of National Academy of Sciences. In Press 2017. PMCID In Progress.
Varol, E., Sotiras, A., & Davatzikos, C. (2017). HYDRA: Revealing heterogeneity of imaging and genetic patterns through a multiple max-margin discriminative analysis framework. NeuroImage, 145, Part B, 346-364. PMID: 26923371
Dong*, A., Toledo*, J. B., Honnorat, N., Doshi, J., Varol, E., Sotiras, A., Wolk, D., Trojanowski, J. Q., Davatzikos, C., & Alzheimer's Disease Neuroimaging Initiative (2017). Heterogeneity of neuroanatomical patterns in prodromal Alzheimer's disease: links to cognition, progression and biomarkers. Brain. In Press 2017. PMCID In Progress
Allen, G. I., et al. (2016) Crowdsourced estimation of cognitive decline and resilience in Alzheimer's disease. Alzheimer's & Dementia, 12(6), 645-653. PMID: 27079753
Alchatzidis, S., Sotiras, A., Zacharaki, E. I., & Paragios, N. (2016). A discrete MRF framework for integrated multi-atlas registration and segmentation. International Journal of Computer Vision, 121(1), 169-181. PMID: In Progress
Zeng, K., Erus, G., Sotiras, A., Shinohara, R. T., & Davatzikos, C. (2016). Abnormality detection via iterative deformable registration and basis-pursuit decomposition. Medical Imaging, IEEE Transactions on, 35(8), 1937-1951. PMID: 2704684
Sotiras, A., Resnick, S. M., & Davatzikos, C. (2015). Finding imaging patterns of structural covariance via Non-Negative Matrix Factorization. NeuroImage, 108, 1-16. PMCID: PMC4357179
Sotiras, A., Davatzikos, C., & Paragios, N. (2013). Deformable medical image registration: A survey. Medical Imaging, IEEE Transactions on, 32(7), 1153-1190. PMCID: PMC3745275
Glocker*, B., Sotiras*, A., Komodakis, N., & Paragios, N. (2011). Deformable medical image registration: Setting the state of the art with discrete methods*. Annual Review of Biomedical Engineering, 13, 219-244. PMID: 21568711
Ou, Y., Sotiras, A., Paragios, N., & Davatzikos, C. (2011). DRAMMS: Deformable registration via attribute matching and mutual-saliency weighting. Medical Image Analysis, 15(4), 622-639. PMCID: PMC3012150