Evi Parmpi, M.S.
---
Project manager B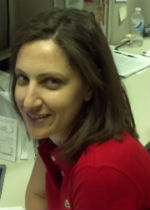 Section of Biomedical Image Analysis
Center for Biomedical Image Computing & Analytics
Department of Radiology
Perelman School of Medicine, University of Pennsylvania

Richards Medical Research Laboratories, Floor 7
3700 Hamilton Walk
Philadelphia, PA 19104
phone: 215-746-4060
email: parmpip@uphs.upenn.edu
Educational Background
Finance and Accounting (Certificate Program), May 2012 - Wharton School, University of Pennsylvania
M.Sc. in Materials Science Engineering, August 2012 - University of Maryland, College Park, MD
B.Sc. in Chemistry, November 1998 - Aristotle University of Thessalonica, Greece
Short Bio
I have been project manager since 2013, and my major role is the proposal submissions through PennERA, IRB submissions, NIH progress reports and post award budget management.
Publications
Xiao Da, Jon B. Toledo, Jarcy Zee, David A.Wolk, Sharon X. Xie, Yangming Ou, Amanda Shacklett, Paraskevi Parmpi, Leslie Shaw, John Q. Trojanowski, Christos Davatzikos, for the Alzheimer's Neuroimaging Initiative, "Integration and relative value of biomarkers for prediction of MCI to AD progression: Spatial patterns of brain atrophy, cognitive scores, APOE genotype and CSF biomarkers", NeuroImage: Clinical 4 (2014) 164–173, 2014.
Christos Davatzikos, Susan M. Resnick, Xiaoying Wu, Paraskevi Parmpi, Christopher M. Clark, "Individual patient diagnosis of AD and FTD via high-dimensional pattern classification of MRI", Neuroimage, 41 (4):1220-1227. Epub 8 April 2008, July 2008, PMCID: PMC2528893.
Paraskevi Parmpi, P. Kofinas, "Biomimetic Glucose Recognition Using Molecularly Imprinted Polymer Hydrogels", Biomaterials, 25(10), 1969-1973, May 2004.
Close
---
Christos Davatzikos, Arijitt Borthakur, Feng Xu, Xiaoying Wu, Evi Parmpi, Matthew Sochor, B.Sc. and Christopher M. Clark, "Integration of MRI measures of atrophy and protein aggregation with CSF biomarkers of AD pathology in individuals with mild cognitive impairment", International Conference on Alzheimer's Disease, Chicago, IL, July 26 - 31, 2008.
Christos Davatzikos, Susan M. Resnick, Xiaoying Wu, Paraskevi Parmpi, and Christopher M. Clark, "Individual Patient Diagnosis of Alzheimer's and Frontotemporal dementias via High-Dimensional Pattern Classification of MRI", Alzheimer's Disease conference, June 2007.
Paraskevi Parmpi, and Peter Kofinas, "Molecularly imprinted polymer hydrogels displaying isomeric sugar biorecognition", Proceedings of MRS Spring Meeting, 4/2002, San Francisco, CA.
Close
---
Hari B Sunkara, Paraskevi Parmpi; DU PONT DE NEMOURS & CO E I
Inventor(s): Hari B Sunkara, Paraskevi Parmpi
Title: "Manufacture of polytrimethylene ether glycol by polycondensing reactant comprising diol consisting e.g. 1,3-propanediol, in presence of acid polycondensation catalyst at specific temperature"
Patent Number(s): US2005283028-A1; WO2006009857-A1; US7074969-B2; EP1756028-A1; KR2007024607-A; CN1968916-A
Close
---