Mouse Brain Maturation Atlas via DTI
---
In this project, we employ a computational neuroanatomical approach to quantify postnatal developmental patterns of C57BL/6J mouse brain via Diffusion Tensor Magnetic Resonance Imaging (DT-MRI). Goal is to develop a normative atlas against which neurogenetic mice may be compared, thereby facilitating genotype-phenotype studies.
Since mice brains usually exhibit sufficient spatial variability even when they are of the same litter and genetic make-up, it is necessary to remove ccross- and within-age differences by mapping all DTI images onto a common coordinate space. For spatial normalization of DTI, we employ a hierarchical feature matching based nonlinear registration algorithm (HAMMER), followed by tensor alignments to avoid creation of biological incorrect neuronal pathways. Finally, statistical analysis is carried out using various features of interest, such as fractional anisotropy, coherence index, directionality and trace, as a measure of brain maturation. Jacobian determinant of the shape transformation is, in turn, used to characterize growth of various structures.
Both voxelwise and ROI based approaches are considered to measure healthy growth and maturation profiles, which will eventually lead to a mouse brain development atlas, which will eventually be contrasted with pathological variations.
Dataset (to download visit click here)
Inbred mice of the C57BL/6J strain were used in the study. Brains of these mice were scanned ex vivo for HR-DTI images at various developmental stages. Since brain development is typically more pronounced in early postnatal stages, which gradually tapers off to a steady state in about 5-6 weeks after birth, we sampled the postnatal period of 40 days densely in the early postnatal days and consequently acquired 31 HR-DTI images on days 2, 3, 5, 7, 10, 15, 20, 30, and 40 as tabulated in Table 1, with multiple images per day. Gender bias was circumvented by considering similar numbers of female and male mice (15 and 16 respectively).
All brains were consequently spatially normalized to a template selected in the middle of the developmental process (Day 10), as mentioned above.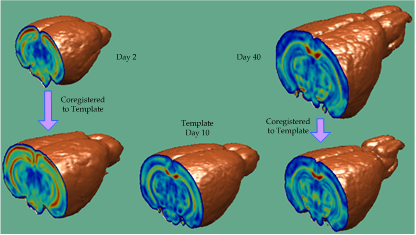 Figure 1: Spatial Normalization of DTI dataset. Crispness of average FA maps indicates reasonably good registration.
Table 1: Grouping of mouse data into young (2-7 days old) and adult (10-40 days old), and their gender-wise distribution.
Young

Adult

Day

2

3

5

7

10

15

20

30

40

80

Number of Females

2

5

5

4

2

2

0

0

1

0

Number of Males

2

5

0

4

3

3

1

1

0

4
Several features were extracted from DTI images to account for developmental process:
Fractional isotropy (FA) as a measure of maturity
Trace of DTI tensor as a measure of maturity
Logarithm of Jacobian determinant (LJD) of the normalizing transformation as a measure of growth rate
Close
---
Normalized feature maps (FA, Trace, or LJD) were used to create
Average maps
Voxel based regression maps
to provide comprehensive information about spatiotemporal variations. The former provides mean neuroanatomical representation at each time point, whereas the latter characterizes its temporal rate of variation.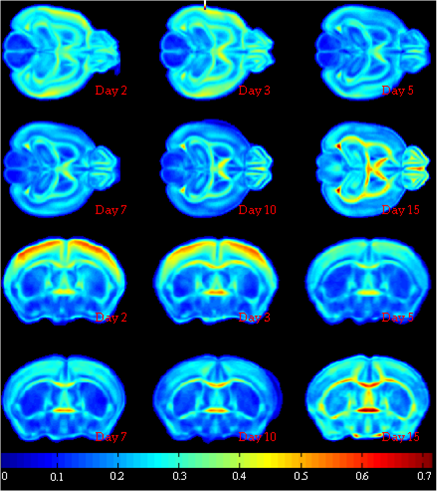 Figure 2: Average daily FA means of Day 2 to Day 15 (Top rows: Axial view; Bottom rows: Coronal view) indicate a gradual decline in FA values in GM structures such as cortex, and a steady increase in FA in GM structures. A drop of 31% was observed in cortex from Day 2 to Day 5. Corresponding variance maps indicated small values except at the boundaries of various structures due to slight registration errors.

Figure 3: FA based regression map indicates gradual decline in FA values in cortex and hippocampus, showing progressive maturation in these structures with age as dendritic trees elaborate. WM structures, on the other hand, register steady increase in FA values, with the formation of tightly packed axonal pathways.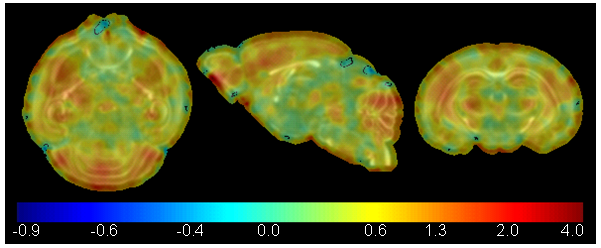 Figure 4: Regression map based on log of Jacobian determinant indicates somewhat spatially heterogeneous growth rates. Cortex and cerebellum grow at a higher rate as indicated by regions in red.
Close
---
DTI images were divided into two groups, namely, young and adult, as indicated in Table 1. Differences between the two groups was characterized through:
Difference maps
Voxelwise regression maps
This not only allowed finding regions of significant differences but also the amount of variation between the groups.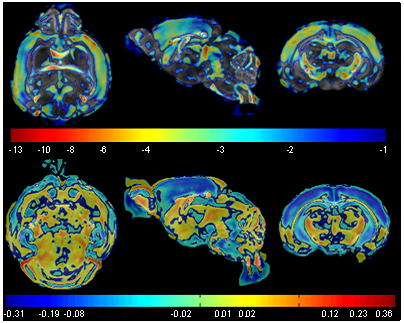 Figure 5: Statistical tests on FA maps indicate regions of significant differences in maturation between young and old brains. (Top) Log of FA based p-maps; (Bottom) Difference map between the two groups highlighting changes in old brains versus young. GM cortical and hippocampal regions show a drop in FA values (indicated by blue) whereas WM structures such as ic, ec, genu and splenium of cc, show an increase in FA values (indicated by red). Corresponding percent variations are given in Figure 10. The regional changes correspond to white matter tracts which can be seen by comparing with Figure 6.

Figure 6: Average FA weighted first principal direction maps illustrated through color maps, where each component of a principal direction is represented as a color component. Principal direction map depicts fiber orientations in a brain. Crispness of the average color maps highlights high level of registration accuracy. As a result, after normalization most of intersubject variability is carried in FA maps.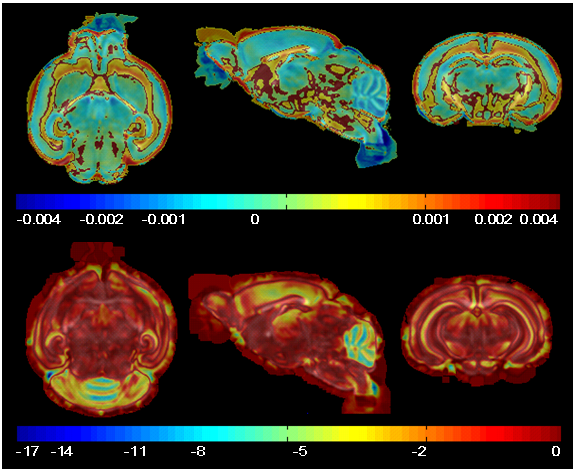 Figure 7: Statistical tests on trace indicate regions of significant organizational differences between young and old brains. (Top) Log of Trace based p-maps; (Bottom) Difference map between the two groups highlighting changes in old brains versus young. Regions of significant (p=10-6) growth rate differences were found in the cerebellum. Corresponding percent variations are given in Figure 10.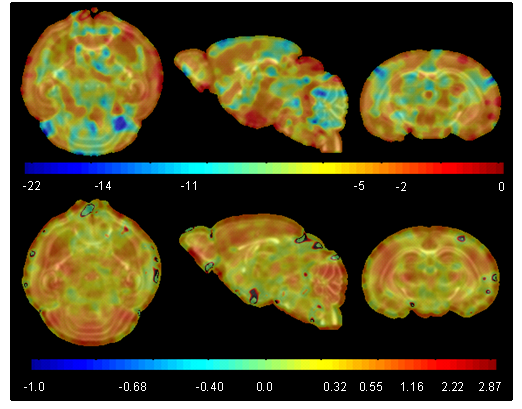 Figure 8: Statistical tests on LJD maps indicate regions of significant volumetric differences between young and old brains. (Top) Difference map between the two groups; (Bottom) Log of LJD based p-maps highlighting changes in old brains versus young. Regions of significant (p≤10-3) growth rate differences were found in the cerebellum. Corresponding percent variations are given in Figure 10.
Close
---
11 regions were dropped in the template, which were then transferred to indvidual brains via corresponding warping transformations. ROIs were selected in the genu of cc (gcc), splenium of cc (scc), hc, ic, ec, left cortex (ctxl), right cortex (ctxr), cbl, anterior commissure (ac), triangular septal nucleus (tsn), and amygdala (am), as illustrated in Figure 9.

Figure 9: Regions of interest were dropped in the template corresponding to marked structures, which were then transferred to average feature maps for each day using the transformation for spatial normalization.
Percent average changes within these ROIs were computed as shown in Figure 10.

Figure 10: Percent group differences for various FA, trace and LJD computed from ROIs highlighted in Figure 9. Cortex exhibits a huge drop in FA. LJD changes are almost similar in all structures, indicating a uniform growth of the brain.
Close
---
Several interesting observations follow directly from the analysis. In early infancy, high FA values in the cortical regions suggest a radial structure due to underdeveloped dendrites, cell bodies, axons and glia. A sharp drop in FA values follows in early postnatal period, with almost 30% in first 5 days, implying rapid formation of dendrites and rise in synaptic density. In total FA values drop by an average of 58%, reaching their steady state by day 10 (Figure 5).
Spatially, tissue maturation patterns are found to be extremely heterogeneous. The hippocampus, for instance, exhibits a decrease in FA by 42%. WM structures, on the other hand, show an increase in coherence. In the corpus callosum, FA is relatively higher in splenium than that in the genu at the time of the birth, and steadily increases by 17% in the splenium and 52% in the genu of corpus callosum to reach a steady state in around 30 days, indicating a gradually enhanced connectivity between the left and right hemispheres. Internal and external capsules demonstrate a net increase of 14% and 33% respectively, which may be indicative of a slow maturing tract comprising a period of uncertain alignment leading to rapid organization of the white matter. The anterior commissure shows an almost linear increase of 42% reaching maturity in 30-40 days. Most WM structures attain maturity by day 30, indicating the formation of tightly packed bundles of myelinated axons that allow diffusion only along axial directions.
The significance of these maturation patterns was confirmed by t-tests between young and adult mice. Significant differences were readily observed in the corresponding regions, as indicated with low p-values (p < 0.05), with the exception of cerebellum. For FA, average p-values for various structures range from 10-4.5 in the cortex to 10-1.9 in ec, whereas 10-2.5, 10-3.3, 10-2.2, 10-2, 10-3, and 10-2.7 was observed respectively in ccs, ccg, hc, ac, am, and ic, indicating highly significant values.
During this period, not only does the brain get more organized as illustrated by FA and trace based analysis, there is a growth in neurons with the enlargement of brain structures and development of myelin sheets. Simultaneously, increased number of axonal fibers tightens fiber bundles, possibly leading to a higher FA in adults as seen in our results (Figure 10). In the cortex, the dendrites develop and multiply lowering FA values further. Overall cortex and cerebellum displayed highest growth rates.
Close
---
Sajjad Baloch, Ragini Verma, Hao Huang, Parmeshwar Khurd, Sarah Clark, Paul Yarowsky, Ted Abel, Susumu Mori, Christos Davatzikos, Quantification of brain maturation and growth patterns in C57BL/6J mice via computational neuroanatomy of diffusion tensor images, Cerebral Cortex, in press, 2008.
Jinzhong Yang, Sajjad Baloch, Hao Huang, Sarah Clark, Paul Yarowsky, Susumu Mori, Christos Davatzikos and Ragini Verma, Framework for comparing mutant mice against a DTI-based normative atlas of mouse brain development, ISMRM, Toronto, 3-9 May 2008.
S. Magnitsky, E.I. Zacharaki, R. Verma, R.M. Walton, J.H. Wolfe and H. Poptani: "Longitudinal Detection of Neuronal Stem Cells Labeled with Types of Iron Oxide Particles", Joint Annual Meeting ISMRM-ESMRMB, May 19-25 2007.
Ragini Verma, Susumu Mori, Dinggang Shen, Paul Yarowsky, Christos Davatzikos: "Spatio-temporal maturation patterns of murine brain quantified via diffusion tensor MRI and deformation-based morphometry" Proceedings of the National Academy of Sciences 102(19): 6978-6983, May 2005.
Close
---
Dataset
These mouse datasets provide developmental patterns across subjects and gender for understanding growth and development of murine brains with respect to structural changes observed via diffusion properties. In the following table, the representative datasets from 9 development stages (days) are provided. In each stage, we include one male subject and one female subject, as well as the group averaged image in this day. Also provided are the corresponding FA images. The corresponding filenames are provided in the table.
Data Format
The provided diffusion tensor image is a voxel-wise image with each voxel containing 6 tensor components [Dxx Dyy Dzz Dxy Dxz Dyz] in float format. The FA image is in float format. All datasets are stored with little endian. They are resampled to be with size 300x300x200, and voxel resolution 0.06x0.06x0.06 mm.
The details about the dataset are:
| | | | |
| --- | --- | --- | --- |
| Days | Male | Female | Average |
| Day 2 | M_2_M_D (DTI & FA) | M_2_F_A (DTI & FA) | meanDay2 (DTI & FA) |
| Day 3 | M_3_M_A (DTI&FA) | M_3_F_B (DTI&FA) | meanDay3 (DTI&FA) |
| Day 5 | N/A | M_5_F_C (DTI&FA) | meanDay5 (DTI&FA) |
| Day 7 | M_7_M_E (DTI&FA) | M_7_F_B (DTI&FA) | meanDay7 (DTI&FA) |
| Day 10 | M_10_M_C(DTI&FA) | M_10_F_A (DTI&FA) | meanDay10(DTI&FA) |
| Day 15 | M_15_M_B(DTI&FA) | M_15_F_A(DTI&FA) | meanDay15(DTI&FA) |
| Day 20 | M_20_M_F (DTI&FA) | N/A | N/A |
| Day 30 | M_30_M_A (DTI&FA) | N/A | N/A |
| Day 40 | N/A | M_40_F_C(DTI&FA) | N/A |
| Day 80 | N/A | N/A | N/A |
To obtain the representative sample of dataset please fill out this form
Close
---