Yusuf Osmanlioglu, Ph.D.
---
Postdoctoral Research Fellow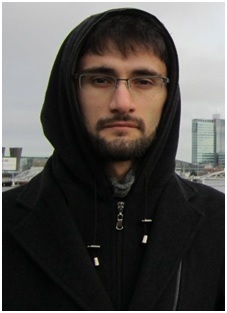 Section of Biomedical Image Analysis
Center for Biomedical Image Computing & Analytics
Department of Radiology
Perelman School of Medicine
University of Pennsylvania

Richards Medical Research Laboratories, Floor 7
3700 Hamilton Walk
Philadelphia, PA 19104
fax: (001) 215.573.1811
email: yusuf.osmanlioglu@uphs.upenn.edu

Personal webpage
Educational Background
Ph.D. in Graph Matching, Pattern Recognition & Approximation Algorithms - Drexel University (Philadelphia, USA)
M.Sc. in Computer Graphics & Image Matching - TOBB University of Economics and Technology (Ankara, Turkey)
B.Sc. in Computer Science – Middle East Technical University (Ankara, Turkey)
Research Interests
Inexact graph matching, approximation algorithms, graph theory, application of graph matching methods to medical images
Representative Publications
For a full list of publications you can go to: Google Scholar.
Journals
Yusuf Osmanlıoğlu and Ali Shokoufandeh. Multilayer matching of metric structures using hierarchically well-separated trees. Pattern Recognition Letters, 2016.
(Published Version)
M Fatih Demirci, Yusuf Osmanlıoğlu, Ali Shokoufandeh, and Sven Dickinson. Efficient many-to-many feature matching under the l 1 norm. Computer Vision and Image Understanding, 115(7):976–983, 2011
(Published Version)
Conferences
Yusuf Osmanlıoğlu, Santiago Ontañón, Uri Hershberg, and Ali Shokoufandeh. Efficient approximation of labeling problems with applications to immune repertoire analysis. In 23 rd International Conference on Patter Recognition, ICPR 2016.
Jeffrey Wildman, Yusuf Osmanlıoğlu, Steven Weber, and Ali Shokoufandeh. Delay minimizing user association in cellular networks via hierarchically well-separated trees. In IEEE International Conference on Communications (ICC). 2015.
Theses
"On the Applications of Metric Trees and Metric Labeling to Hard Combinatorial Optimization Problems", PhD Thesis, Drexel University, 2016.
"Producing Three-dimensional Facial Animation by Modifying Facial Expressions Emotionally and Improving the System with Image Matching", M.Sc. Thesis, TOBB University of Economics and Technology, 2009.